Building Engaging Digital Experiences: Flexible Mobile App Solutions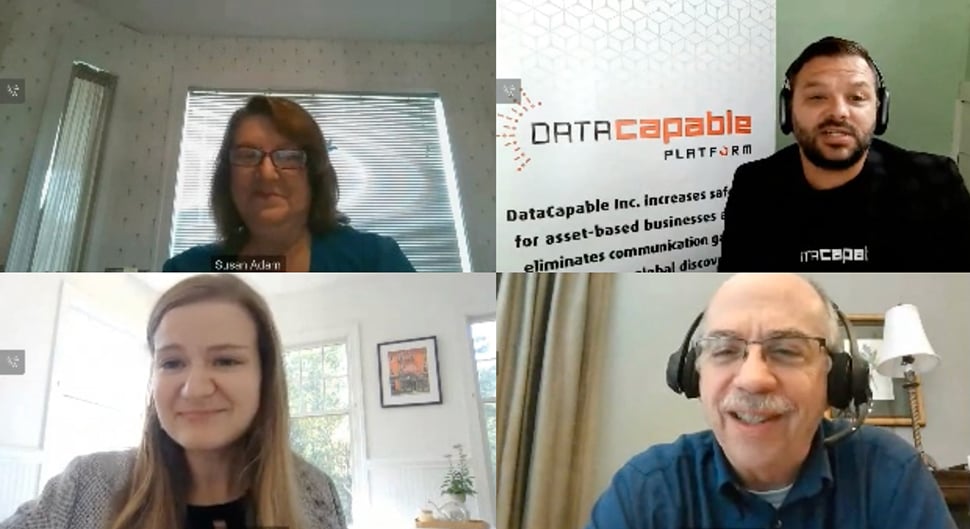 Are you looking to add custom or off-the-shelf software solutions to better engage your customers? Are you hesitant to make any decisions because you don't know where to start or what solutions will best meet your business needs?
You're not alone!
Many questions and concerns arise regarding custom and off-the-shelf software solutions during the planning stages of a digital project. Selecting the right software partners will help mitigate many of those concerns and set you in the right direction.
To talk more about different software solutions and how they can help build an engaging digital experience, Mindgrub's Vice President of Engagement Laura Gousha joined Entergy's Susan Adam, DataCapable's Kevin Peterson, and Chartwell's Scott Johnson for a special edition of Chartwell's EMACS Webinar Series.
Watch the full webinar or read the recap below.
Recording provided by Chartwell.
Myths vs Facts
Many utility and energy companies have legacy investments and outdated systems. With an ever-growing demand from customers for better app functionality, off-the-shelf software solutions have become more prevalent.
"We want to break the myth that it has to be all or nothing, that you have to go with a fully custom solution or with a fully off-the-shelf solution," says Laura Gousha.
"Instead, we are promoting the idea that you can get the best of all worlds with this hybrid [flexible] model."
Here are some common misconceptions about custom software to consider in your decision-making process:
Myths:
Off-the-shelf products meet all of your needs
Customization costs too much
A fully customized app takes too long to create
More in-house support is needed
Facts:
Changes are often needed to match an off-the-shelf product with a company's processes
Customization ultimately saves money
Working iteratively yields efficiency and on-time delivery
Vendors deliver success with roughly the same amount of support needed
Related reading: Custom Mobile App or Off-the-Shelf for Your Utility? [A GUIDE]
"Off-the-shelf software is something that will perform and meet the needs of your business," says Kevin Peterson. "But, a software partner that understands that one size does not fit all for every utility—and understands that you have those unique system challenges associated with legacy data and accuracy of data—is in a position to work with you to make sure that you're able to present the data in the ways that you want to present the data."
Flexing an Industry Example
Throughout the presentation, each speaker leveraged their collaborative effort to produce Entergy's award-winning customer mobile application as an exemplary case study, sharing several insights that contributed to the app's overwhelming success among users.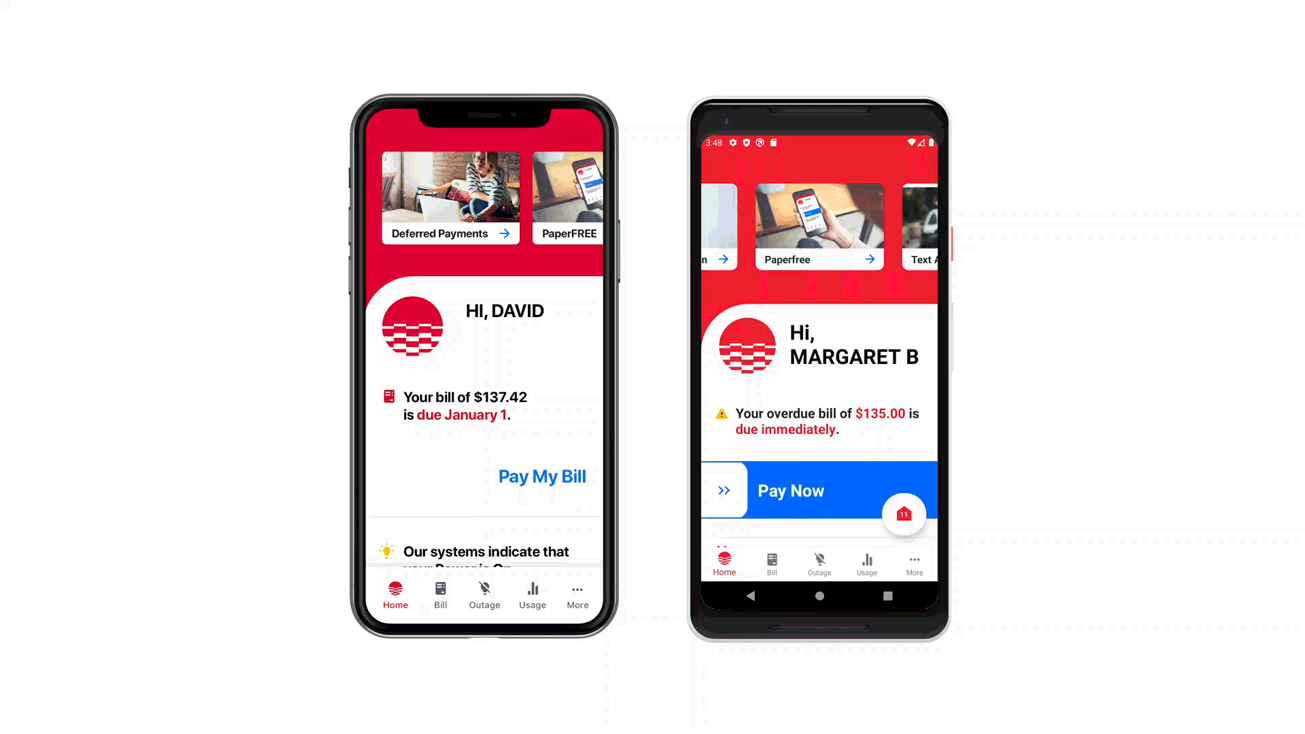 The team's agile approach to software development allowed for effective communication across the three companies, iterative changes throughout the process, and more efficiency and productivity overall.
"We usually deploy [app updates] after two sprints. It's mostly new features, but if we do have bug fixes, they're included in that as well," elaborates Susan Adam. "We also make sure that both teams, DataCapable and Mindgrub, are aligned together, especially when we're doing new maps solutions."
A major component of the app's success: outage reporting and mapping. Customers have access to real-time data, the Storm Center for the latest outage event information, and options for reporting outages.
Related reading: Why Your Utility App Needs a Mobile-Optimized Outage Map
"Our in-person collaboration in Baltimore was just what we needed to quickly design an omnichannel outage map solution, and now our streetlight map is our latest example," says Susan. "It provides more accurate streetlight location information from our Esri GIS and a quick and easy customer interface to report the light out."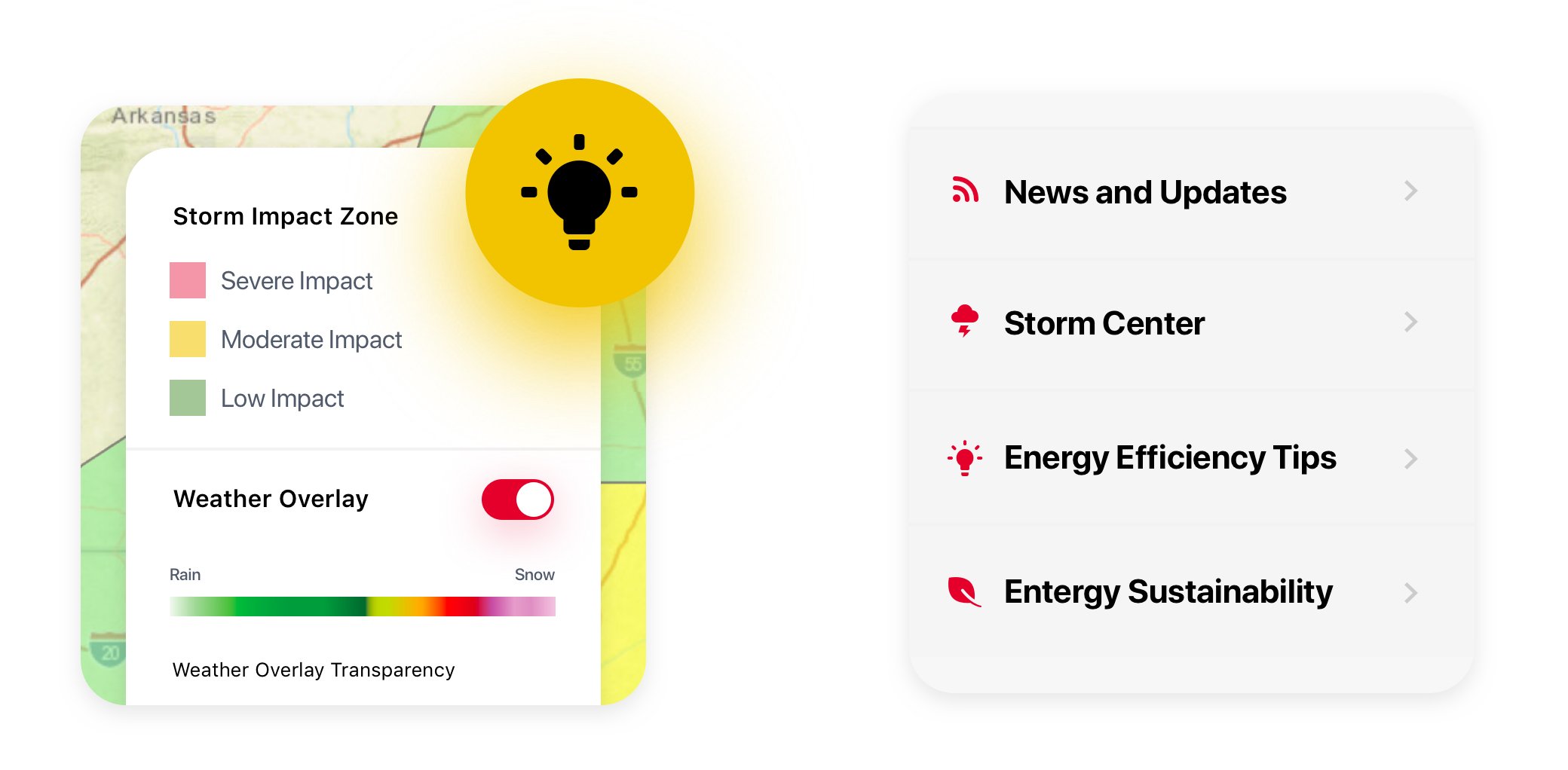 Within two weeks of launch, the customer mobile app received one million downloads and over 6,000 five-star reviews in the in-app rating system. The app also won several awards for its user interface and experience:
Additional Insights from the Experts
The open discussion portion of the webinar covered many topics, ranging from finding the right partners to the adoption rate of custom software.
"This software problem at its core is about finding the right partners that can help you deliver on your vision, on your needs, and on your customers," says Kevin.
To capitalize on your investment, take time to identify your objectives, prepare interview questions, and choose vendors that match your needs.
On the topic of app success, Kevin says, "So it's not about 'did the customer download the app one time?' but is the customer using the app regularly, says Kevin. And is it a source of information and a source for them to transact?"
A common user pain point is having too many systems to complete different tasks.
"The recognition is that we need to get something that's a one-stop-shop for those customers, not multiple platforms where they can engage with them," Laura points out.
For Entergy's app, the collaborators created a central platform for users to engage with their data, streamlining the process for Entergy's customers.
The speakers also offered these pieces of advice to the audience:
Don't look at your app as one-and-done. Apps need to be optimized over time in order to see continuous success.
Have a marketing plan in place before the app is deployed. It will assist in driving downloads and alerting users to new features.
Become an owner of the process. Working to build in-house support teams alleviates the stress of working with third parties exclusively and broadens your understanding of the application.
Understand the focus of the organization and the challenge of the customer. A thorough evaluation of the risks and benefits of custom software should be completed before making a decision.
Customer feedback and experience are vital. A flexible product ensures the customer experience is properly tailored to their respective needs.
Conclusion
Combining custom and off-the-shelf software solutions provides the flexibility needed to create positive experiences for users. The flexibility not only improves the app's functionality, but also streamlines the processes for future updates.
The partnership between Entergy, Mindgrub, and DataCapable demonstrates how effective collaboration and software implementation can lead to the launch of a successful, user-centric mobile application.
Additionally, ongoing collaboration after launch is just as important. The teams regularly add new features and updates to continue to improve the customer experience as new trends and needs arise.
If you want to learn more about how Mindgrub can help you with your next digital project, drop us a line!