Mobile App Gamification: Aligning Energy Efficiency Goals with Interactive Customer Experiences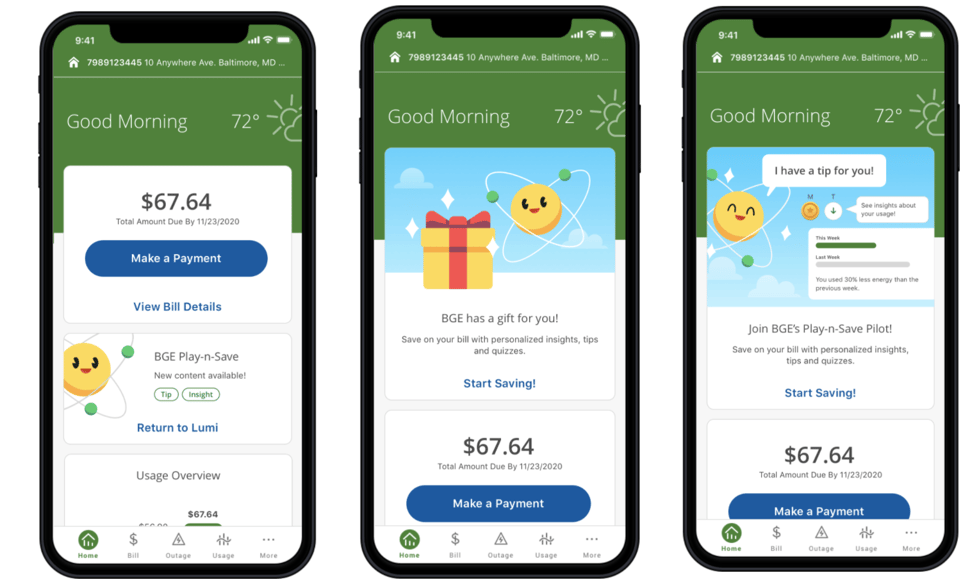 Utility companies across the country are looking for creative ways to slow the growth in energy consumption, support residential customer cost savings, and reduce peak demand. Mindgrub and Baltimore Gas and Electric (BGE) presented their approach on this very topic at the annual Behavior, Energy and Climate Change (BECC) Conference.
To accomplish these goals, utilities understand that connecting with customers via digital channels is a vital piece of the puzzle. Gamification is a strategy that, if successfully implemented, can increase customer engagement and promote natural behavioral change in users. BGE's Play-n-Save pilot program, for example, is an interactive mobile experience that provides energy-saving tips to help customers reduce their monthly bills.
Gamification is the process of using game design elements and principles in a non-game context, i.e. an energy application, to increase user participation and long-term engagement. At its core, it's about driving engagement to influence business results.
Did you know that most utility mobile applications feature bill pay, outage reporting and alerts, but only 55% offer energy-saving features? Most of them lack engagement or any form of gamification.
BGE incorporated gamification into its existing customer mobile app to see how customers responded to their new virtual energy coach, Lumi ℠. The goals of the pilot were to increase annual energy savings, increase customer engagement with the app (and its energy-saving tools), and to foster innovation through a highly personalized digital experience.
Gamification has the ability to trigger human emotions, which is one way it can influence and motivate people's behaviors. It has the benefit of awakening curiosity which entices users to continue exploring the mobile application to receive rewards. It also creates a sense of control for the users to choose how and when they engage with the application.
During the process of creating a feasibility study, the collaborative team created working prototypes to test the gamification concepts and performed usability tests to ensure that customer insights would be applied throughout the design process and that the right solution was built. From there, the team created a fully clickable design prototype, allowing the team to demo and test the experience with internal stakeholders and actual users.
Development of the mobile application took place over a period of ten weeks, driven by engineers and quality assurance testers who participated in the buildout of the BGE mobile application, ensuring that the new experience integrated seamlessly with the existing customer mobile app.
The preliminary results of the iOS-only pilot have provided promising insights.
Key Highlights:
The program did contribute to higher rates of customer engagement, customer satisfaction, eBill adoption, mobile app adoption, and energy efficiency savings.


When it comes to why customers are using the pilot, the top two answers provided in survey results are "I want to save money on my energy bill" and "I like seeing personalized information about my home energy use."


There were over 17,000 active participants in the customer test group with an incredibly low opt out rate of less than 1%.


The pilot also showed a 30% eBill adoption rate with increased customer responses for personalized data, which has real impact on utility cost savings and waste reduction goals.


Over 2,500 energy efficiency tips have been favorited by customers, and over 4,200 reminders have been set that will help customers meet energy reduction goals.
Customer engagement with the application will provide helpful data that can help influence marketing campaigns and platform utilization. Each interaction will also provide BGE with a better understanding of how their customers are spending their time and what activities drive interests.
Early gamification results are promising, but more research is required to determine the ongoing sustainability and impact of the program. Future iterations will explore enhanced incentives based on the customer feedback, and additional ties into existing programs. In addition, the character of Lumi℠ has been extended to support other marketing and communications initiatives at BGE, further integrating a successful brand touchpoint across multiple channels.
Click here for more information about Mindgrub's work with utilities.