Why Your Customer Loyalty Program Needs to Go Mobile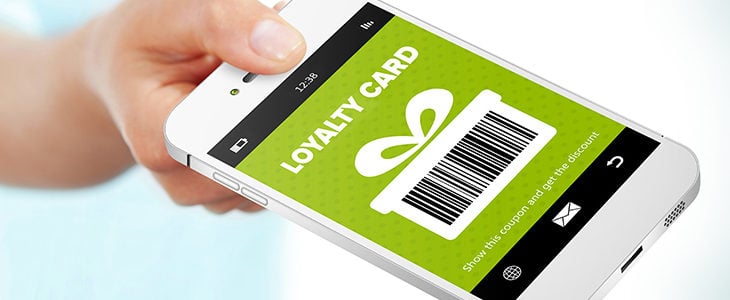 * This is part 1 of our "Future of Mobile Strategy" series, highlighting the top four profit-driving use cases for native mobile technology. Stay tuned over the next few weeks for parts 2-4. *


It is commonly accepted that the cornerstone of any marketing strategy is lead generation. Increasing the volume of prospective customers for your product or service is the key to profitable growth, right?
Well… maybe not. The cost of attracting a new customer is anywhere from 5 to 25 times higher than the cost of retaining an existing customer. Furthermore, repeat customers spend, on average, about 300% more than first-timers.
So how do you grow customer loyalty in an age of increasing brand apathy?
Our take: Make your mobile presence a key pillar of your customer loyalty program.
Why loyalty programs fail
Today, more than 90% of B2C companies have some kind of customer engagement or loyalty program. And yet, U.S. consumers only participate in approximately 50% of the loyalty programs they belong to.
Irrelevant and impersonal offers, low-value promotions, and over-communication are three of the the top reasons why loyalty programs continue to suffer from low engagement and high attrition.
Compounding the issue is the fact that consumers are becoming less and less brand loyal, as millennial expectations of brand experiences continue to drive low-performing brands outside the realm of relevance.
Building a loyalty program people actually use is, apparently, easier said than done.
How native mobile applications can help loyalty programs succeed
The mobile channel is one that, when executed thoughtfully, can deliver exactly what traditional loyalty programs cannot: relevant, timely, personalized, valuable promotions that inspire purchase intent where little or none existed before.
Here are three major ways native mobile applications can increase the efficacy of a loyalty program:
Convenience



78% of consumers prefer instant, digital access to rewards.




Who do

you

think is more likely to use a reward at the point of sale:

a. Someone whose rewards are stored conveniently in one place, immediately accessible on their smartphone; or
b. Someone who has to fish through a crowded email inbox (or worse, a messy purse) to find a coupon?
Additional features such as mobile payment options are both convenient for users and another way for brands to track and incentivize purchase behavior.
Personalized communication



80% of consumers are more likely to do business with a company if it offers a personalized experience.




With mobile technology, brands can serve notifications based on user proximity to a physical storefront location, deliver targeted offers based on weather conditions, gamify the rewards program experience, and more.




The mobile channel gives companies a more complete view of how customers interact with their brand in their everyday lives. This presents a unique opportunity for marketers to swear off promotions crafted without regard for a customer's interest in or ability to redeem them.



Engagement





Highly-engaged customers buy 90% more often and spend 60% more per transaction.




A holistic mobile loyalty program has the potential to go beyond rewards points and sales promotions and become a viable, interactive communications channel.




Instant access to FAQs, customer service reps via chat, in-store walking directions to specific departments, in-app charitable giving options, product or service review requests, and user-generated content sharing are just some of the ways that a mobile loyalty program can engage a consumer beyond the first transaction.
Mobile loyalty programs in practice
Royal Farms, a popular mid-Atlantic "quick and friendly" restaurant chain, decided to redesign its mobile app to create a fast, easy, and enjoyable experience for all of its customers. Based on user feedback, they made sure the new app makes customers feel rewarded for their continued patronage.
"Through our partnership with Mindgrub, we were able to re-launch our app on a robust mobile platform," said Scott Smith, Director of Information Technology for Royal Farms. "Customers can quickly scan their rewards barcode from the app and if they have it tied to RoFo Pay, it can be used to pay for purchases at any one of our 175+ stores."
The app's key functionality was created with the goal of improving the speed and convenience of being a repeat customer, thus positioning themselves to increase the lifetime value of each and every user.
From rewards to relationships
Brands who are acing the mobile loyalty program game understand that they can't build a strong relationship with their customers with impersonal discounts alone.
They're making loyalty rewards convenient to collect and redeem, delivering relevant content at the right time, and using the mobile channel as a forum for interactive engagement - on the customer's terms.
Interested in revitalizing your mobile rewards program? Want to talk strategy for your brand's next mobile project?
Drop us a line
.