What Mobile Analytics Can Do for Your Organization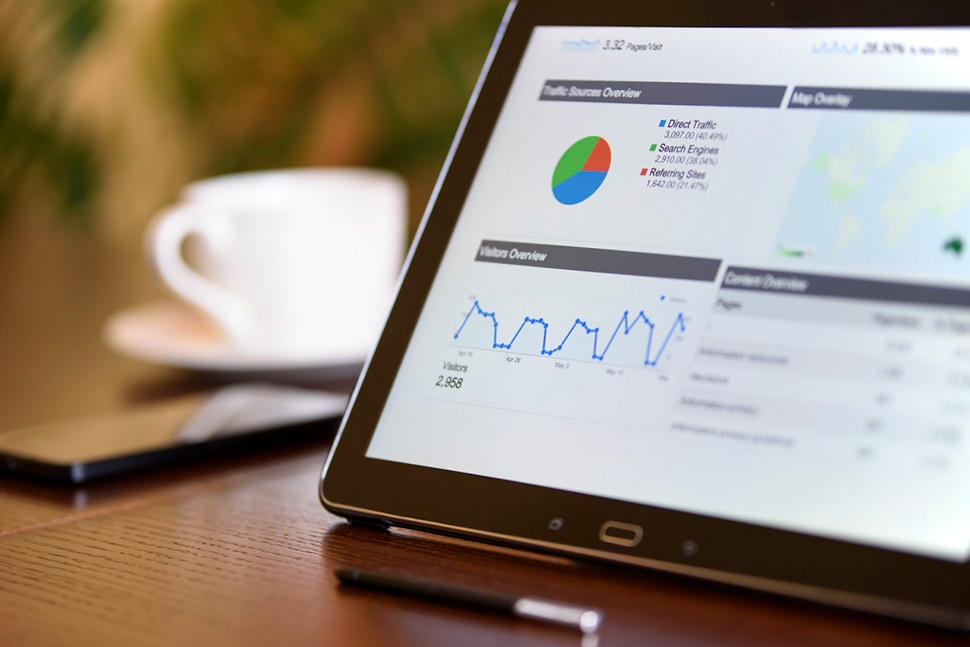 Mobile users, on average per month, only use roughly 35% of the apps installed on their devices.
What does this mean for organizations and businesses vying for their audience's attention?
Now more than ever, brands have to make consistent, meaningful changes to their digital presence based on how users are engaging with their product. A static online presence is, without a doubt, obsolete.
The strategy behind a native mobile app or a responsive website must go beyond good design and development. Just like anything else used to engage your audience, your mobile presence requires ongoing maintenance and user data analysis, known as mobile analytics.
The data
Analytics involves collecting data from visitors of mobile apps and websites. That data is then used to understand visitor behaviors.
It can help uncover, for example:
How many users have downloaded and are actively using your mobile product
Which features are used the most
Which aspects are causing difficulties for users
Once you've been able to identify what your users are doing, where they are spending their time, and what actions they are taking (or not taking), you'll be able to make decisions about how best to engage, convert, and retain visitors.
The process is a positive feedback loop. User information is gathered and analyzed in order to help decision makers form strategies around improvements, which will help deliver a more satisfying experience for users.
Benefits
Organizations without a mobile analytics strategy experienced a 12.9% decrease in brand awareness. With a tight budget and limited resources, why take the gamble of investing in your mobile presence without taking steps to optimize it?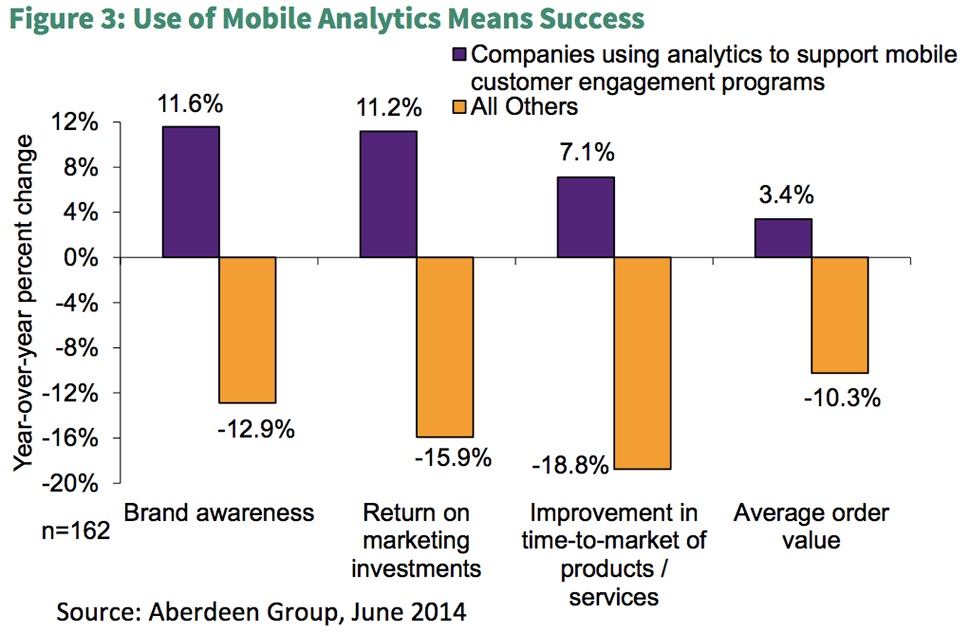 A worldwide survey of executive managers conducted by MIT Sloan Management Review in collaboration with IBM Institute for Business Value showed that higher performing organizations use mobile visitor data five times more than lower-performing organizations.
Setting things up
Generally speaking, getting started with mobile data analysis is fairly straightforward. That being said, it's critical to understand the capabilities of your analytics and reporting tools in order to make your findings actionable.
We'll cover the basics here.
Collection
The very first step is to determine what data points you want to track and measure.
Here are a few of the most important types of metrics:
This is information about where users are coming from (e.g., organic search, referrals, paid apps), the operating systems and mobile networks being used, geographic location, etc.

Users expect apps to load quickly, giving them instant access to the information they want. Not only can sluggish load times cause users to abandon your app, but they can also take their frustration to the app store and submit a low rating.
Monitoring load times regularly (especially after content changes) is one of the easiest ways to keep users happy.
Crash reports and network issues
Users are very quick to stop using apps and websites that crash or have network issues.
It's important that you are collecting information about when, where, and how these types of problems occur so that they can be resolved as soon as possible.

There are numerous metrics that you can collect in regards to user engagement. You'll need to decide what makes the most sense to meet your organization's needs.
For example, if you have an app that helps people find health insurance providers, you'll want to know how long visitors spend using search features or the number of people that take a particular action (e.g., register for an account or submit a request for more information).
You can also organize your users into groups (or cohorts) for in-depth analysis. If there are differences between people, it might be best to segment them into cohorts of similar users before analyzing behaviors.
As soon as you have solid information for each of your cohorts, you can get a better understanding of their behaviors and start to predict what they will be interested in.
Testing
Don't ever underestimate the power of testing your product to meet your goals.
One of the most popular tests is A/B testing where different users are given two versions of the product in order to identify behavior differences.
If you want to increase user engagement, for example, you'd focus changes on increasing time spent and taps on links. But if you want the same users coming back for more, your changes would focus on number of visits and hitting that sweet spot for number of notifications.
Modification
At this point, you have everything you need to make any changes for a better product. No more guessing or asking a few other folks what they think. It's all in the analytics.
Repetition
Now, you might be concerned about going through the process of making changes and doing so on a regular basis.
The good news here is that designers, developers, marketers, and other digital teams have adapted to get the job done quickly using agile methodologies. Depending on who is helping your organization with its mobile product and analytics, changes could be implemented in just a matter of hours.
Continue to work through the steps above. User behaviors are constantly changing, your analytics are always running, and your testing and improvements need to keep up.
Tools that can help
Some more great news: there are lots of mobile analytics tools available to help.
Let's take a quick look at a few of the popular ones:
Google introduced its analytics tool for mobile a few years ago to support iOS and Android platforms. It requires a Google account and installation of Firebase SDK.
User behavior, app speed, and app function can all be measured and displayed in custom reports.
We recommend that you also take advantage of Google Tag Manager, which allows you to configure and deploy a Universal Analytics tag or any of the supported third party tags. This makes it easy to implement changes without having to push updates to the app marketplaces.
One of the open source tools, Countly's mobile analytics is available for iOS, Android, and Windows Phone.
With this tool, you can obtain in-depth analysis about how your app is being received by users as well as how your specific performance indicators are doing.
You can also segment users into groups based on who they are, how they arrived at your product, and the actions they are taking.
Flurry Analytics supports iOS, Android, Windows Phone, HTML5, hybrid apps, Blackberry, and JavaME.
It gives you the opportunity to measure a lot of parameters in real-time, such as user engagement, conversions, etc. From this, you'll have a better understanding of the user experience and how well your initiatives are working.
Localytics is available for iOS, Android, Windows 8, and web apps.
It uses visitor information to help drive conversions with timely in-app and push messages.
Using event-based analytics to reveal app performance, Mixpanel offers services for iOS and Android apps.
Once you set things up, much of the analysis is done automatically and presented in an intuitive way for you to visualize trends.
Winning advantage
Now that you have a basic understanding of what mobile analytics is, how it's used, and why it's so critical to mobile success, it's time to act.
Whether you are just starting to think about developing a mobile presence or have had one for several years, it's always a good time to consider introducing quality mobile analytics to your product. Without it, you're flying blind.

Are you interested in using or exploring the opportunities of mobile analytics? Our experts can help. Let us know what's on your mind.