7 Leadership Lessons from the 2020 Virtual Speaker Series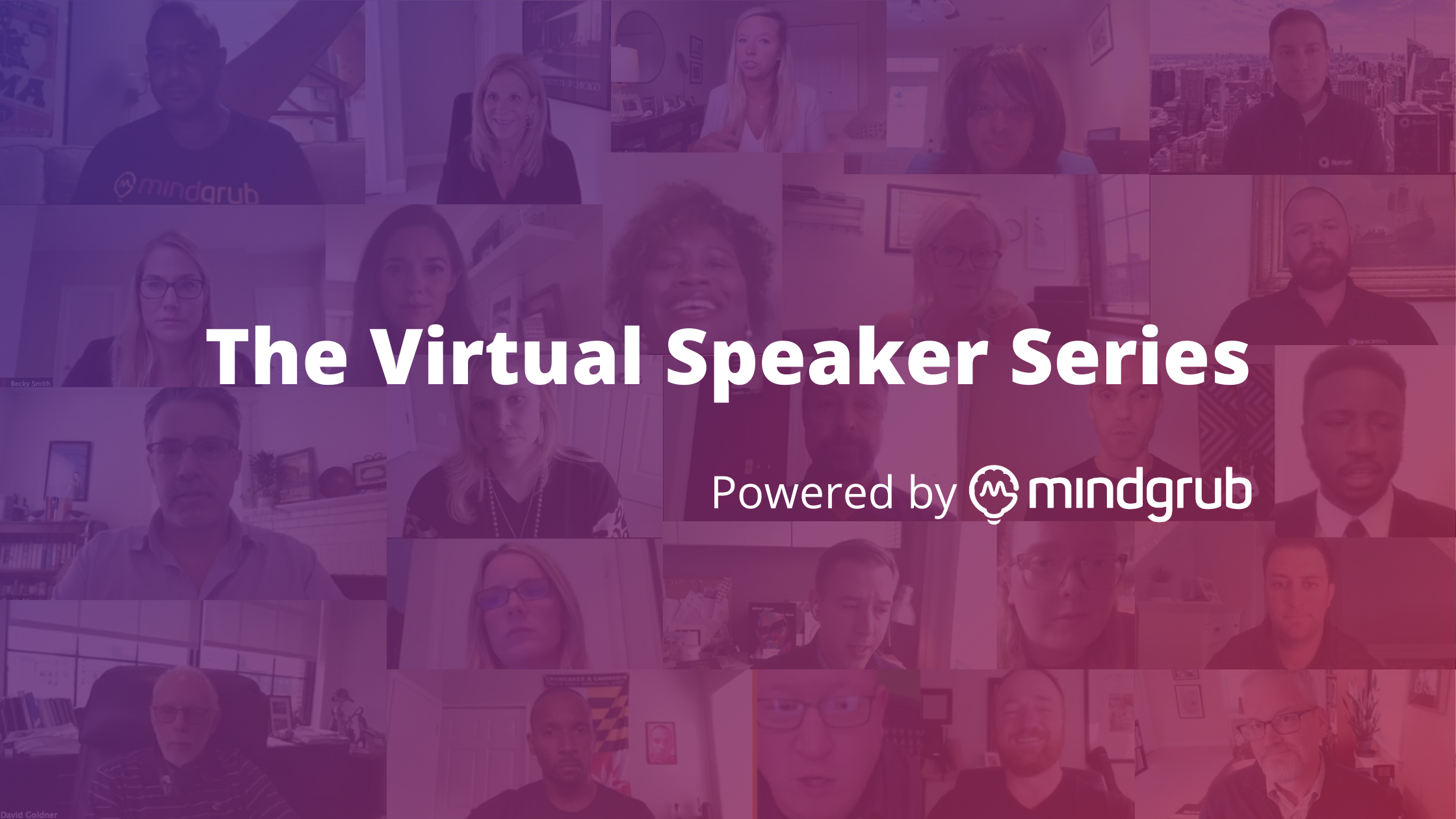 ---
I know I'm not alone when I say that 2020 did not go as planned. I can remember the day we finished our grand plan for the third annual Outdoor Speaker Series like it was yesterday:
Walking into a conference room with a few loose ends, walking out with everything outlined perfectly….and then promptly throwing that plan in the trash in early March.
That said, I'm really proud that our team pivoted so quickly to host the series virtually. Although we weren't able to meet out in the Mindgrub courtyard and connect with new friends over cocktails, I learned a ton from our panels of industry experts, and I'm grateful to be able to bring this new-found knowledge with me into 2021.
So, in this season of reflection, I wanted to share some of (what I believe to be) the most important lessons shared by our speaker series panelists this year. Although our diverse group of experts came from different industries, backgrounds, and geographies, I think there's something for all of us in each of these takeaways:
1. "Digital-first" isn't temporary; it's here to stay.
All of us were impacted by the COVID-19 pandemic, and many of us had to learn how to hit our business goals without doing anything in person. While some folks may be hoping that digital communications and virtual experiences are a temporary fix, it's clear that there's real value in investing in a more long-term, digital-first approach.
Fasika Melaku, VP of Learning and Development at Denny's and Becky Smith, EVP & Chief Strategy and Marketing Officer at SECU both noted that even their most technology-averse customer segments have started to use digital channels (such as online meal ordering and mobile banking) significantly more often than ever before.
As more people have those online touchpoints for the first time and become more technologically literate, demand for digital experiences will stay high.
To paraphrase Garth Moore, GMMB's Senior VP of Digital Strategy, so much of what's changed during the pandemic (i.e. in-person events moving to a virtual format, thought leaders creating and sharing their own video content on social media versus at conferences, and so on) isn't going to disappear once the worst of the crisis is over.
Organizations who have invested in building up their digital channels will be in a much better position to keep their existing audiences engaged and expand them over time.
2. Self-service customer experiences can be just as positive as white glove, in-person ones.
If you're just embarking upon a digital transformation of your organization, a great place to start is with finding opportunities to turn in-person interactions into self-service experiences for your customers, employees, or constituents.
For many of today's consumers, giving them the power to do things like proctor their own certification exam from the safety of their home, complete financial transactions virtually, or learn how to use a particular piece of software or machinery using augmented or virtual reality is just as positive of an experience as a hands-on, in-person interaction.
In our conversation about B2B marketing, Alex Frederick (Toast's Senior District Sales Manager) shared how, at the beginning of the pandemic, his team invested primarily in creating interactive content that helped customers start using their hardware and get the most value out of their software investment. Not only did this help customers get started using their Toast products faster, but it also allowed them to spend more time thinking strategically with restaurant clients.
Virtual self-service experiences satisfy a growing percentage of people who prefer digital, on-demand support versus customer service over the phone, helps manage the volume of calls to customer support, and reduces the need to have representatives onsite with customers.
While digital tools won't replace the human element entirely, giving users the option to leverage channels like your website or mobile app is a scalable way to lend a helping hand and reduce friction in the customer experience.
3. You can do well by doing good.
It was clear that all of the industry experts we spoke with felt an enormous sense of gratitude for and responsibility towards their employees and their communities.
More than ever before, we're seeing competitors collaborating with one another and business leaders making diversity, inclusion, and community engagement key components of their mission.
Several of our panelists this year spoke about how their organizations were "doing well by doing good" this year, either by measuring their corporate social responsibility initiatives in terms of impact (instead of just public relations value), by documenting progress on diversity initiatives, by creating avenues for employees and their families to seek and get support, or by some other means.
It is my hope that this evolving understanding of what it means to be a business or an organization will continue to include a heightened regard for the people who make up a team and the communities in which they operate.
4. Your employees are, and always will be, a very important audience.
When we talk about building a communications strategy, a lot of us start by considering our current and future customers.
What messaging will resonate with them? What content should we create and where should we distribute that content so that people choose to work with or purchase from us? How well are our campaigns performing among key buyer segments?
Well, if 2020 has taught us anything, it's that we need to start asking each of these questions (and more) about our internal audience - our employees. Whether or not your team plans on operating in-person in the future, the communications strategy for your team members has the potential to impact their productivity, growth, loyalty, retention, and personal mental health.
Transparency, engagement, and connection are easier to deliver when everyone's in the same physical space every day, every week, or even just once a year, but they're just as important in a fully remote environment.
Many of our experts kicked off their internal communications strategies by asking their team members what information they wanted to hear, from whom, how, and how often. Measure the health of your program and optimize it over time, just as you do with your external communications.
5. The more we do digitally, the more important cybersecurity becomes.
It's hard to understate how important cybersecurity is to any given individual or company, and our cyber panelists were right to point out that no business is too small to be a target. With more of us operating remotely, managing cyber risk has gotten both more difficult and more vital to an organization's long-term success.
While securing your rapidly-evolving digital ecosystem may seem like a tall task, as our panelist Angela Murphy, COO of Sontiq, pointed out, a lot of your organization's cyber health depends on your people. If you're putting the finishing touches on your roadmap for 2021 - and it doesn't matter how well-versed your team is in cyber health - it must include ongoing security training for your team members.
Seriously, if you haven't done this already, do it now!
If you're worried about your crew rolling their eyes at yet another required training, remember that this doesn't have to be boring. Take our very own Director of Web Engineering Brian Thompson, for instance. It's hard to watch his effective-yet-hilarious video on safe passwords without smiling.
Securing your organization's digital ecosystem, your customers' data, and your employees' information isn't just the job of your CTO, your CISO, or your network administrator. It's everyone's responsibility, so make sure everyone on your team is empowered with the knowledge, tools, and operating procedures they need to protect your systems from cyber threats.
6. Networking can still generate results.
People don't buy from companies, people buy from other people. This used to be a lot easier when you could meet those people at a networking event, take your clients out for coffee, or socialize with your strategic partners at industry conferences.
One thing that was echoed by a lot of our panelists was the idea that it's not impossible to network in the digital age, it just takes a little creativity. As David Goldner, Partner and CPA and Gross Mendelsohn & Associates stated, digital tools create lots of opportunities to connect with people on a personal level at any time, regardless of where you are in the world.
Is one of your prospects' companies raising money via social media for a charitable cause? Donate to their fundraising campaign or congratulate them on reaching their goal. Has someone in your network posted a question on LinkedIn that you think you can answer? Share a helpful resource in the comments section or set up a quick Zoom call to discuss further. Does one of your clients have a webinar coming up? Share the link to register on your personal social media channels and invite others to attend.
These personal touchpoints not only keep you top of mind, but they also add value in the lives of your prospects and customers. Stay in touch. Seek to help. Connect authentically.
7. Creative ideas can (and should) come from anywhere.
My dad has a great guiding principle for leadership: Never let them see you sweat. The general idea is that panic is contagious, but so is calmness and confidence. While I believe this is a great way to lead (especially during a crisis), I feel that some people take this to mean that they need to have all of the answers all of the time.
When was the last time you asked your team members, "What do you think we should do?"
How do you think they'd respond? Do you think they feel safe enough to share those ideas without any reservation? Do they have a channel through which they can share them without being invited to do so?
Our panelists noted several concrete examples of how changes to everything from their organizational chart to their communications technologies to their corporate culture paved the way for more creative input from their teams.
Great ideas for marketing campaigns can (and should) come from your customer service representatives. New strategies for customer success can (and should) come from your engineering department. Feedback about your employee onboarding experience can (and should) come from your brand new hires, as well as from your 10-year veterans.
As we enter 2021, it's worth taking a moment to find new ways to encourage and facilitate creative problem solving across departments and throughout the organizational hierarchy. From where I sit, I think you'll project more confidence in welcoming collaboration as opposed to stifling it.
---
Many thanks to the dozens of experts who shared their time and expertise with us this year and to the 250+ of you who attended one of our webinars in 2020. We're looking forward to learning with you in 2021 and beyond!
---
Recordings and highlights from each of our 2020 Virtual Speaker Series webinars are available on Mindgrub's YouTube channel. Interested in working together in 2021? Contact our team today.