5 Industries Growing with Artificial Intelligence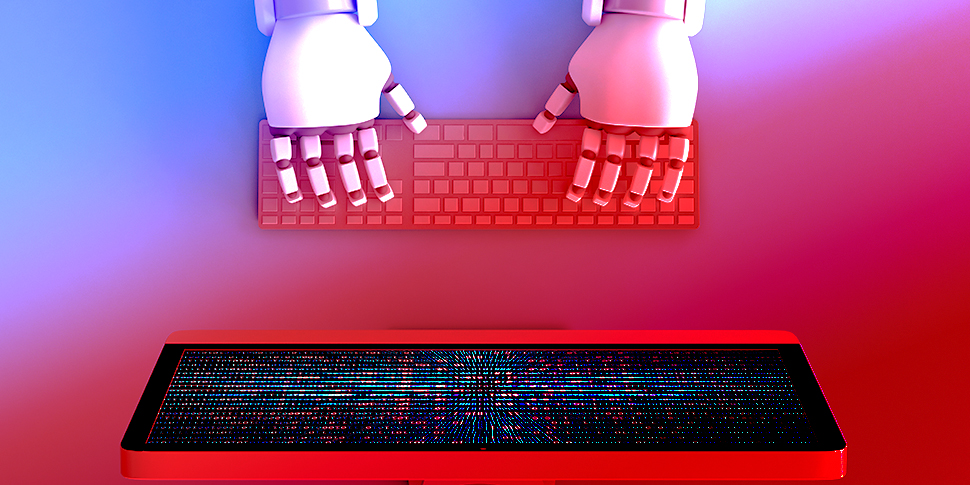 Artificial intelligence (AI), or the ability of computer programs to mimic human cognition, has become the backbone of some of the most successful companies in the world, including Google, Facebook, Amazon, Netflix, and Microsoft.
With their capacity to increase efficiency and revenue, AI-based technologies could be the key to giving your company a competitive edge for future growth - regardless of what industry you're in.
Companies can use AI to grow by (a) integrating machine learning into their products and services and (b) leveraging data analysis to optimize their internal operations and their customer experience. In this way, AI technologies provide the rare business solution that increases speed, improves quality, and reduces costs at the same time.
Although it seems cutting edge, AI isn't just for the biggest, most innovative companies anymore. Access to the cloud and the development of reliable systems have made AI integration possible for a broader range of industries.
That accessibility means an increasing number of companies are focusing their resources on AI implementation.
50% of companies that participated in this global survey reported that they have adopted AI technology in at least one of their business functions. Worldwide, spending on AI is forecasted to grow 19.6% to reach $432.6 billion in 2022 and is expected to break the $500 billion mark by 2023.
Here are five industries that are currently harnessing the power of AI:
1. Real Estate and Development
In real estate, the best chance of closing a sale is by showing the client the right property at the right price. AI-driven systems provide the real estate industry with the capability to recommend the properties that fit best with the client's preferences and to generate a reliable property valuation.
Listing recommendations
It's been estimated that 75% of Netflix views and over 35% of Amazon purchases are based on recommendations. AI enables systems to make recommendations based on a consumer persona incorporating personality traits, preferences, and historical data.
The incorporation of AI systems in property recommendations can elevate the customer experience by presenting the right information to the client rather than overwhelming them with irrelevant options.
Property valuations
The old adage "location, location, location" oversimplifies the complex (and often cumbersome) task of determining accurate property valuations.
A precise valuation takes into account a multitude of factors, such as the value of comparable properties, previous valuations, historical price movements, and location-specific benefits. Considering there are over 105 million residential properties in the United States, each with its own data sets, calculating an accurate valuation is a difficult task for humans alone.
By using an Automated Valuation Model (AVM), AI software can determine a property's value in a matter of seconds, while still accounting for a large amount of contributing factors. AVMs also remove the negative human aspects of property valuation by decreasing bias, subjectivity, and fraud risk. AI valuation software can also assist brokers and developers by uncovering underlying drivers of property value to make well-informed decisions.
Building management
AI also benefits commercial real estate companies by enabling automation in building systems. Savings from building automation come from energy-efficient upgrades, ongoing monitoring of key assets, and an analysis of occupant behavior.
Companies like PointGrab have developed AI technology that collects data about the location and behavior of building occupants by using visual sensors to detect human presence in a room. Real-time data collected on occupant behavior and space utilization can be integrated into automated lighting, cooling, and heating systems. Directing automated systems with occupancy-based data improves tenant comfort while also reducing energy consumption.
Occupant behavior and location data can be utilized by AI systems to provide insight into what types of facilities are popular among occupants and which ones aren't.
For instance, real estate company Bozzuto is using behavioral data to determine whether or not spaces like gyms, dog parks, and game rooms actually attract interest. Insights gathered from AI-driven analytics can become a valuable asset when converted into actionable directives for growth and development.
Related content: Outdoor Speaker Series: Innovation in Real Estate Development
2. Hospitality
AI technology occupies a significant place in the hospitality industry due to the complexity of hotel operations, the complexity of data, and the intensity of labor required to deliver a satisfactory customer experience. AI systems can respond to these problems quickly and accurately to increase positive customer experiences to build brand loyalty.
A recent survey found that 89% of respondents agree that AI significantly reduces operations costs and 75% agree that AI technologies can significantly enhance the guest experience across all stages of the guest journey.
Guest experience personalization
AI allows hospitality managers to utilize multiple and often unstructured datasets to provide a personalized customer experience. Managers can leverage data from booking history, satisfaction surveys, third-party providers, and observational data to develop guest personas and create personalized services, communications, and offers.
Tech company Go Moment developed Ivy, a smart texting platform powered by the IBM Watson AI engine. Guests communicate directly with the Ivy's automated response system, reducing the amount of time staff spend answering simple questions like "What is the wifi password?" or "Where is the gym?" The Ivy Dashboard provides staff with real-time customer feedback and data that can be used to study guest behavior and preferences.
Revenue management
AI-driven price-optimization software has the ability to parse through multiple sources of internal and external data to predict demand and modify rates in response to changing conditions.
OTA Insight is a data intelligence software used to consolidate and analyze large amounts of data to solve specific revenue management tasks in hospitality. The software synchronizes data on historical reservations, occupancy, reservation behaviors, and daily rates to generate the optimal room rate in real-time.
Multinational hotel groups (including Hilton, Crowne Plaza, and AccorHotels) use the OTA Insight software not only to optimize rates but to also monitor past and future performance using the software's "smarter hotel analytics."
3. Cybersecurity
Cyberattacks are increasing: TechRepublic reported in June 2021 alone, that the total number of ransomware attack attempts (78.4 million) was higher than three out of four quarters in 2020.
A growing range of companies is in need of sophisticated cyber defense systems to protect their networks. A 2019 survey reported that 61% of senior executives said their company cannot detect breach attempts without the use of AI technologies and 56% of firms report that their cybersecurity analysts are overwhelmed.
Given the scale of what needs to be monitored, AI technologies are best suited for the task of securing an organization's data. What may take humans several days or even weeks can be done almost instantly by AI-driven cybersecurity systems.
Related content: Outdoor Speaker Series: Cybersecurity in the Public Sector
Malware detection
Traditional methods of malware detection are signature-based. This type of antivirus software is problematic due to its reliance on security updates and delays in real-time threat detection.
Security software developer Versive, now part of eSentire, offers the Versive Security Engine (VSE) to automate network security analysis. The VSE avoids relying on signature-based detection and focuses on detecting malware behaviors that reveal themselves in network data.
Email monitoring
Phishing is another major threat to a company's cybersecurity. While trained humans can easily scan through an email and identify suspicious features, the problem arises when a large corporation is sending and receiving millions of emails on a daily basis.
AI security systems provide the scale and accuracy necessary to ensure a quick response to possible email-based attacks.
Communication security company Tessian offers AI-driven software to combat threats such as phishing, misdirected emails, and unauthorized emails. Tessian's software uses algorithms to learn about contact patterns and anomalies in email communications. The tool also uses natural language processing to ensure the content of emails, such as word choice and grammar, does not indicate a potential threat.
Another cybersecurity service provider, Cylance, offers CylanceProtect to help companies identify and neutralize attacks by email. The software uses natural language processing and predictive analytics to prevent phishing attacks from compromising company data. CylanceProtect is trained on millions of emails to accurately discern which data points correspond with both safe and malicious emails. This software is currently used by the CIA to protect US intelligence information.
4. Government
AI in the public sector is nascent today. Implementation of AI often involves public-private partnerships to help government agencies jump the technical hurdles involved. That being said, a 28% increase from FY 2021 enacted levels in government AI investment indicates a healthy future for AI integration into the public sector.
Threat identification and neutralization
Palantir Technologies offers AI solutions for defense and law enforcement agencies. Palantir's software allows officers to gain insights from various databases and information systems.
Their AI algorithm can synchronize information from unstructured message traffic, identity data, telephony, documents, network data, and sensor data to identify suspicious patterns and develop tactical approaches to defense problems.
Palantir is currently protecting agencies such as the CIA, FBI, the Los Angeles Police Department (LAPD)
Smart city technology
A large portion of today's urban infrastructure is underutilized and inefficient. The average New York City driver spends 107 hours per year searching for a parking spot and a study of the Chicago Transit Authority shows that the lack of bus route tracking systems reduces ridership.
The net result of inefficient city infrastructure and services is a waste of resources. These problems will only intensify as urban areas are projected to house 60% of the global population by 2030.
Smart city technologies driven by AI are working to correct these shortcomings.
Adaptive signal control technologies (ASCT) are systems used for optimizing traffic signals using real-time data. According to the Department of Transportation, "...on average, ASCT improves travel time by more than 10%, and in areas with particularly outdated signal timing, improvements can be 50% or more."
Rapid Flow, an intelligent transportation systems company, offers the Surtrac system. Surtrac receives data from embedded sensors in traffic signals to calculate traffic projections every 1-2 seconds.
Thanks to constant recalculation, their highly responsive system is often used to improve traffic flow. Since the pilot deployment of Surtrac, Pittsburgh has seen a 40% reduction in vehicle wait time and 20% reduction in emissions.
Related content: Mindgrub Enters AWS Public Sector Program
5. Consumer Brands
AI is being applied across the entire product and service cycle, from production to post-sale communications. AI technologies can reduce costs by optimizing operations while also increasing brand loyalty through customer engagement opportunities.
Customer engagement
AI technologies enable companies to elevate the shopping experience with highly-structured web shops, intelligent in-store technologies, and online chatbots.
Millennials account for nearly one-third of the total retail spending. This is the first generation to have grown up after the Internet, social media, and mobile platforms became the norm, requiring innovative approaches to customer interaction.
Japanese clothing company Uniqlo has introduced in-store UMood kiosks which use AI to recommend products based on the customer's mood. The kiosk employs an AI algorithm that determines mood by measuring responses to color and style and neurological indices such as levels of concentration and drowsiness.
Beauty store chain Sephora and skin care brand Olay have introduced AI-driven in-store and mobile product recommendation systems. Sephora's Color IQ scans customers' faces to determine scientifically precise foundation matches. Olay's Olay Skin Advisor analyzes selfies uploaded to their mobile app to evaluate skin health and recommend personalized skin care regimens.
Sephora stores have made 14 million color matches since the launch of Color IQ. Olay reports that 94% of their users agreed that products recommended by the AI algorithm were right for them, backed up by a doubling conversion rate compared to typical beauty websites.
Related content: 15 Ways to Measurably Improve Your Ecommerce Program
Supply chain management
According to Infoholic Research, AI in the logistics and supply chain market is predicted to grow at a CAGR of 42.9% over 2017-2023 to reach USD 6.5 billion by 2023. Leveraging AI to its maximum potential in supply chain technology is paramount in our race to solve the crises of the day.
SCM company LLamasoft offers the Demand Guru software that uses predictive analytics to model future product demand. The software uses AI algorithms to reveal hidden patterns in historical demand data and to reduce projection errors.
Demand Guru can also identify correlations between sales patterns and external events such as industry mergers and acquisitions, weather data, seasonality, and news events.
Clothing company H&M is using AI to improve product demand projections and reduce the cost of unsold inventory.
By analyzing returns, receipts, and loyalty card data, H&M can project product demands at the store level and supply merchandise accordingly to the appropriate locations. Without AI, this location-specific supply system would be overwhelming, considering H&M's large network of global suppliers and over 4,200 stores worldwide.
Related content: Outdoor Speaker Series: Agile Marketing for Consumer Brands
It is important to consider how AI can impact your business because your competitors will surely be doing so in the near future. The integration of AI will not only improve your bottom line but will demonstrate that your company welcomes innovation to provide superior products and services.
Contact the team at Mindgrub to learn more about our service offerings with emerging technologies and artificial intelligence.