4 Mobile Payment Strategies That Will Improve Customer Engagement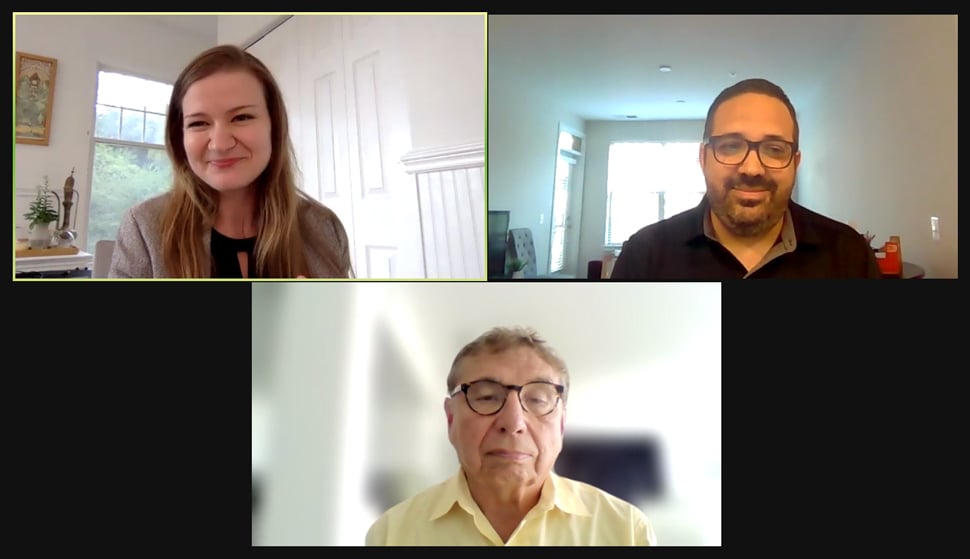 Are your customers looking for a secure, convenient way to complete transactions online? Mobile payment processing features make it easy for customers to purchase products/services and offer added security to protect them. This can foster trust between you and your customers, leading to long-term loyalty, referrals, and more business in the future.
Mobile apps today offer a wealth of self-service options with effortless and engaging interactions, including one-step bill payment, flexible payment arrangements, alerts, personalized preferences, and more. Successful apps leverage customer feedback and user-centered design to ensure they're user-friendly and accessible to diverse audience segments.
To talk in-depth about this topic and share best practices for implementing mobile app payments, Mindgrub's Vice President of Engagement Laura Gousha recently joined BGE's Gabe Nuñez and Aite-Novarica's Thad Peterson during a virtual session at Mobile Payments Conference.
Leveraging BGE's customer mobile app as an example throughout the discussion, the speakers shared strategic insights and customer expectations around mobile payment experiences.
Watch the full webinar or read the recap below.
Four Tips for a Customer-Friendly Mobile-Payment Experience:
Protect user data
Provide clear billing information
Make payments easy
Personalize alerts
Protect User Data
Data privacy and protection is without a doubt the most important aspect of any application, especially those with payment features. In fact—as Verizon points out—losing your phone today is the equivalent of losing your wallet since it contains personal information such as contacts, credit card numbers, personal photos, and more. With all of this vital and personal information within reach, securing this data is critical.
Biometric authentication, such as facial or fingerprint identification, allows customers to quickly and securely access their accounts. Utilizing biometrics removes a lot of friction during the log-in process—a major goal for BGE's customer app.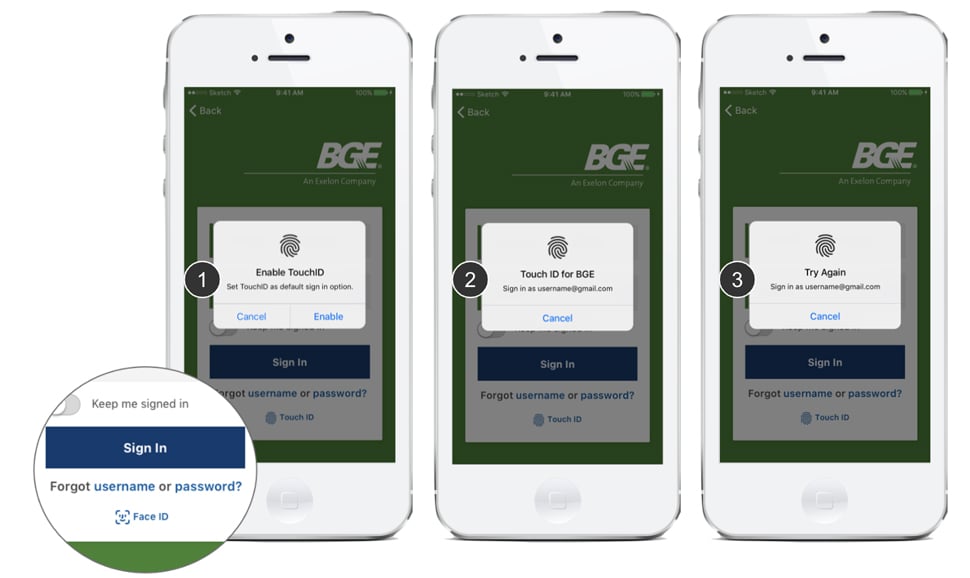 The user's perception of security is also critical when developing a mobile app. "If the customer doesn't feel like [the app] is actually secure and safe, it doesn't really matter," says Nuñez.
You have to show how the app is secure for many users to even consider entering personal information. If the user sees how secure the app is, they will be much more inclined to use it and potentially leave a review.
Provide Clear Billing Information
Due to the high volume of app users that complete repeatable transactions (e.g., paying a bill), it's vital to ensure the information is accessible and the process is simple and secure. BGE sought to make its payment features as effortless and fluid as possible, especially since this is the point where many customers could get confused or frustrated and leave the app.
Customers often like to see purchase/transaction history and other insights on their mobile devices. In the example of BGE's app, users can view detailed billing information, usage trends, and projected costs. By adding features that are often requested by your customers, you show that you're listening to their feedback and adapting to better suit their needs. All of these features must be designed with the end-user in mind.
Providing customers with access to many different tools and features is key for BGE's mobile app, but BGE also wanted to make sure the app wasn't overwhelming to the user, and could be used without further instructions.
"Frankly," Nuñez says on the topic of user testing, "seeing the expression on their faces in their eyes, being able to find what they were looking for, was precious."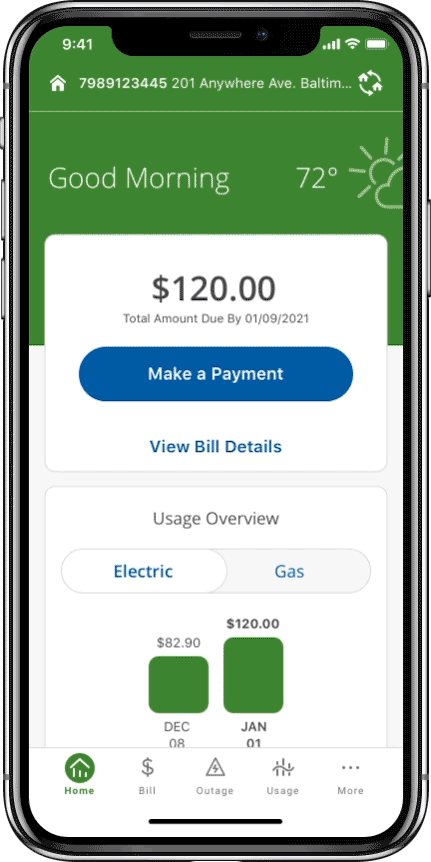 Make Payments Easy
Allowing your customers to sign up for payment options helps them stay on top of their bills. They only have to set up their bank account and select when and how payments will be made once, adding to the convenience they desire.
The BGE app features program enrollments, such as Budget Billing, which enables users to spread their utility payments out evenly over the year. This helps balance periods of high usage, such as during the heat of the summer and the cold of the winter.
In addition, the app features:
Slide to Pay - easy bill payment from the home screen with one swipe


My Wallet - allowing the user to securely add bank account information, customize their payment preferences, and keep a budget


Paperless billing - reducing paper waste and maintaining the accessibility of the app
Users are looking to find the most convenient way to complete tasks. Offering features such as autopay and program enrollment helps ensure they pay their bills on time and avoid the hassle of paper billing.
Personalize Alerts
Alert management gives customers the ability to enroll in several types of push notifications. Given that users receive many notifications from the various apps on their phones, it's important to ensure your organization's notifications are both personalized and relevant.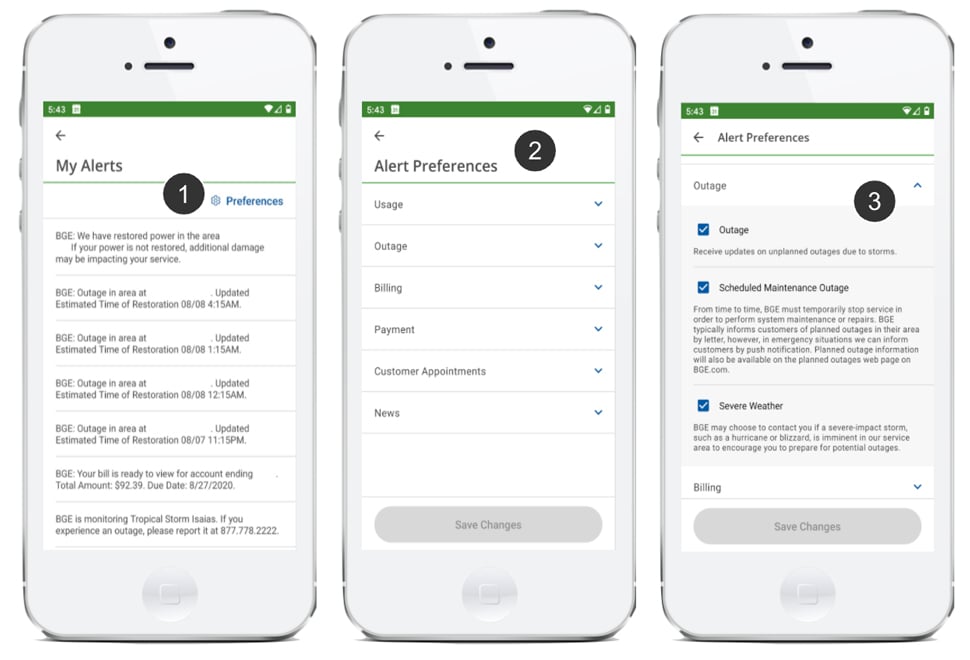 BGE and Mindgrub worked to resolve user pain points regarding notifications. These notifications include payment due dates, past due notices, and alerts for power outages or restoration. Users can customize what they want to see, reducing the volume of notifications to those they prefer to receive.
"... with customization, you're creating a positive feedback loop with the customer," Peterson points out. "So they have an issue, you address the issue, and every time you do that, it reinforces their decision to work with you and use the app."
Results and Outcomes
The BGE app has been well received by its customers with 4.6 out of 5 stars in the app store, nearly half a million downloads, and a strong impact on customer satisfaction and JD Power rankings.
The mobile app remains BGE's fasted growing channel, and continues to drive an ever-growing percentage of digital self-service transactions. Currently, the app has a 97% transactional completion rate—a rate that is higher than all other self-service channels (i.e., web, mobile web, and interactive voice response).
In Summary
Laura, Gabe, and Thad often used the phrase "frictionless" during their discussion. A true frictionless experience requires providing a positive, easy-to-navigate experience for your customers and reducing the amount of idle time in your app.
When considering mobile app features, the user must come first. Keeping the end user happy is always the goal, and listening to your customer base can help you continue to make improvements. A delightful, seamless experience will foster trust and loyalty, leading to more referrals and more business.

Want to learn more about how we can help develop and implement mobile payment features for your app? Drop us a line!