What the Women of Mindgrub Have to Say about Careers in Tech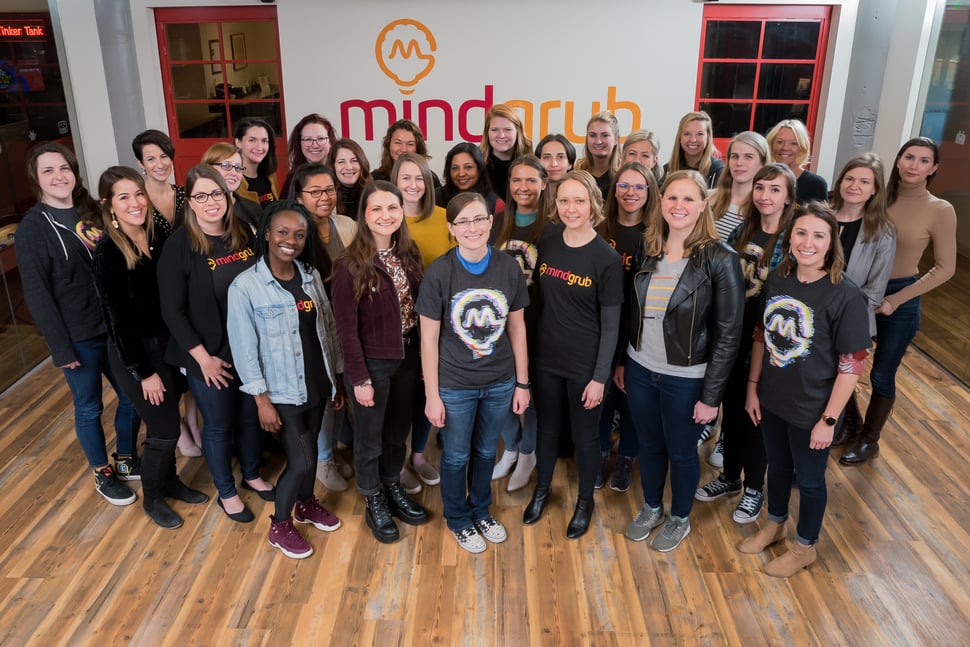 Darya Slobodyanik, Erin Dorsey, Hannah Baldwin, Jeannie McCullough, Jonalyne Walker, Katie Howard, Ketti Chauhan, Laura Gousha, Laura Scruggs, Lauren Herda, Lori Baranoff, Marta Chell, Mariko Sakemi, Rachel Verhaaren, Shannon Hosmer, Stephanie Stevens, Taylor Kurtz, Youjin Jang. Not pictured: Barb Herndon, Chris-Anne Correa, Claire Hanley, Jaclyn Russell, Jennifer Russo, Julie Myers.
Women's History Month dates back to 1981 when the United States Congress passed Pub. L. 97-28, establishing "Women's History Week," and then Pub. L. 100-9 in 1987, establishing March as "Women's History Month." Every President since then has continued to proclaim this tradition.
This year for Women's History Month, I caught up with the women of Mindgrub as they reflected on their experiences in the technology industry.
According to the U.S. Bureau of Labor Statistics, over 1 million computer-related jobs will become available by 2024. In 2016, however, women made up only 26% of the computing workforce.
Here are some insights from women working at Mindgrub:
LB: What's your background and why did you decide to work in the tech industry?
Hannah Baldwin:
My background is in cosmetology and law. However, I have always been interested in the tech field. My father is a big tech guy and he really inspired me to pursue a career in the tech industry.
Jaclyn Russell:
I was always that curious kid that asked 'why' about EVERYTHING, but I never really knew what I wanted to be. I was a creative person without the creative skills. No one wants me designing anything, and code wasn't for me either, but I had a love for figuring out how things worked.
After graduating [from college with a degree in psychology], I started working for a health insurance company doing phone counseling from a cube. I quickly got bored, but you get comfortable and stay that way, until you can't stand it.
I was lucky enough to have an amazing best friend who encouraged me to apply for a Traffic Manager job at a boutique agency where she was working. Despite having no background in tech (and hearing "traffic manager," and picturing a traffic cop directing traffic), I figured I had nothing to lose so I applied with her encouragement and a promise to help me once I got in. She promptly quit to move on to a different agency, (who does that?!) and I was left to fend for myself.
I worked hard, became a voracious Googler, and learned everything I could from team members. I worked my way up from Traffic Manager to where I am today as the Director of Account Management and Product Owner at Mindgrub.
Jennifer Russo:
My background is in marketing and corporate events. I have worked in the AdTech industry for over seven years, beginning my career at Millennial Media for five years, followed by AOL for two.
Choosing to be a part of the tech industry was not deliberate at first, but it soon became a passion, and my decision to stay here was a conscious one. Being able to plan and produce events in the technology industry is so rewarding, and keeps me at the forefront of what is coming next. I really enjoy knowing that what I am working on today is shaping every aspect of tomorrow.
Laura Gousha:
One of the great things about the tech industry is the diversity of the experiences and backgrounds of my colleagues. I studied history and was a teacher, and now I am selling technical solutions to top companies.
Lauren Herda:
I got involved in tech by way of design. As a child I had a keen interest in art and illustration. As a teenager I developed that into an interest in design, and eventually web design.
As I became more familiar with how sites and apps were built, I found myself being involved more and more with the process; not only the design, but also the engineering. Eventually, I made the jump from print design to web and UX design.
Stephanie (Steph) Stevens:
Growing up, I never saw myself in this field. I was dead set on being a journalist or a news anchor, but as I started nearing my last year in high school, I wanted to come to work every day excited and I wanted to work in a team environment.
There's something very satisfying seeing your hard work on shelves at the game store, in the App Store, or on the internet. I took a nontraditional path into tech via the Gaming Industry, and my B.S. degree was in Simulation and Digital Entertainment. From my very first class, I was hooked!
After college, I started out as an Assistant Producer at Big Huge Games, and worked hard to earn my current role as Director of Project Management at Mindgrub. Every single experience in the past eleven years has molded me into the professional I am today.
LB: Describe some women in tech that you admire or see as being influential.
Hannah:

VFX producer Victoria Alonso. She started her career as a production assistant and is now Marvel Studios' executive vice president of physical production. As I am starting my career in tech as an administrative assistant, it is inspiring to see women who worked hard to earn big positions in the tech industry.
It's all about creating empowering female communities for women to grow in their career. Women like Victoria are trailblazing the way for women like me.
Lauren:
Sarah Drasner (Vue.js advocate; author, `SVG Animations`), Erin Kissane (author, `The Elements of Content Strategy`), Leslie Jensen Inman (co-founder, Center Centre), Sarah Parmenter (founder, You Know Who), Erika Hall (co-founder, Mule Design; author, `Just Enough Research`), Laura Kalbag (author, `Accessibility for Everyone`).
Steph:
Jen McLain. She has set the bar high and was very influential to me early in my career.
LB: Why do you think it is important for more women to get involved in the tech industry?
Hannah:
Who is going to develop technology for women if we don't? When airbags were first invented they were tested on men, so women and children were injured disproportionately to what the test results had predicted. Why? Men developed and tested these airbags to fit the typical build of a man.
Apple released a health app that could keep track of a wide-ranging set of health metrics, but they did not account for any female-specific health data. It wasn't until after the app was released and women spoke up about it that Apple added to the app.
Women need to be a part of the tech industry so that they are not relegated to an afterthought. If women are right there on the front lines with men, then what we are developing will dramatically change the world.

Laura Gousha:
My advice for anyone considering a position in the tech industry is twofold: First, do not let a lack of experience stop you from seeking opportunities. Since it is a relatively new industry, experience can come incredibly quickly if you are constantly open to learning and are seizing opportunities as they come.
Second, display your passion for the industry throughout the hiring process. Study everything about the company you are applying for, know the latest trends in tech, and promote what your experiences from the "outside" bring to the table. Do not undersell the value you bring!
Lauren:
Technology is deeply integrated into the lives of nearly everyone in society—even those who don't work in the tech industry. It's imperative that women—like any under-represented group—are invited to the table and are heard when companies design and build the tools and apps that affect us.
Steph:
I believe women offer a different perspective, as we naturally think differently than men, and that it is a good thing to have diversity in the field. By joining the tech industry, we help it all come full circle. I also believe women are natural-born leaders.
LB: What do you think needs to be done to encourage more women to get involved?

Hannah:

Today's generation of tech leaders need to invest in professional development for women, create new opportunities, and think about how to fundamentally change the current tech culture.
Lauren:
It isn't just enough to encourage women to join the tech space, but to intentionally and actively _hire_ women in roles where they are under-represented, to _invite_ women to speak where their voices are not proportionately heard, and to _listen_ to the women already in the industry about how to improve it! The more women who are visible in the ranks of tech, the more encouraging it will be to the next generation to get involved, too.
Marta Chell:
We can start empowering women at a young age to feel like their voices and ambitions are heard and supported. We can connect them with mentors and advisors that share their passions and can help them grow their ideas to their full potential.
We should be making an effort to prepare women for success and putting them in positions with responsibility, giving them the ability to make a change. Technology is creative, adaptive, and cutting-edge...like so many of the women we know!
Rachel Verhaaren:
We need to show the breadth of opportunities available in the tech industry. I have a degree in photography and am now a Project Manager. I had no idea there were jobs for people like me in tech until I took a huge risk, shifted gears, and started applying.
Creative skills are exceptionally valuable and easily transferable to an industry constantly working to come up with the "Next Big Thing." Tech companies need to welcome, embrace, and support unique viewpoints to stay ahead of the curve. We have tons to offer.
Steph:
Awareness and programs to assist younger women to get involved from an earlier age. In my case, I landed here through natural progression in my career. However, molding younger minds from elementary school would be a great start.
I hope that as this Women's History Month comes to a close, more stories about women in the tech industry will come to light, shoving that ever-so-slowly-moving needle further towards equality.