There's More to Maryland Cyber Than You Think [Event Recap]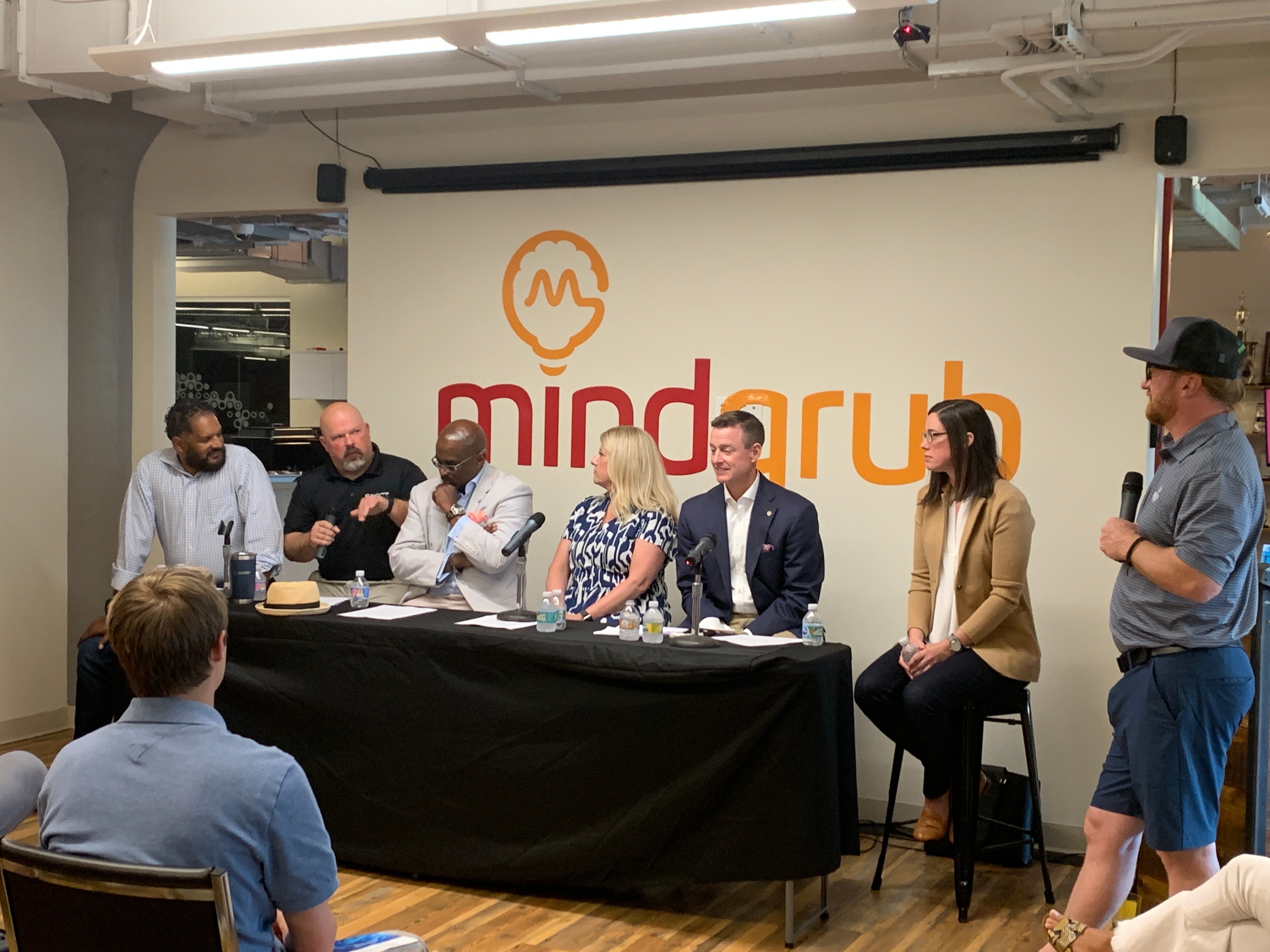 Cybersecurity threats come from everywhere, but did you know Maryland provides some of the best cyber solutions?
The state's vast cybersecurity ecosystem includes federal, commercial, and academic institutions. So it's no wonder major companies like Cisco are choosing Maryland as their primary location for cybersecurity operations.
To showcase all Maryland has to offer, Mindgrub and the Cybersecurity Association of Maryland, Inc. (CAMI) recently hosted a networking event for the launch of the 5th Annual Cybersecurity Buyer's Guide.
Our expert panelists participated in a discussion, moderated by Mindgrub's CEO Todd Marks, on a variety of topics related to cybersecurity. Panelists included:
Check out the highlight reel of the event and a summary of the key takeaways below.
The State of the Cyber Industry
The pandemic impacted every organization in some way last year, and the ripple effects are changing the way people think about data security.
"If I had to describe this past year for the cyber industry in one word I'd use resilient," said Christina Majernik. "We sharpened our arrow a bit and came up with some really tremendous solutions, and I see that replicated over and over again throughout cybersecurity companies."
At the height of the pandemic, many of us took to online shopping for everything to keep ourselves and our families safe. We input personal information like names, addresses, phone numbers, and credit card information without much regard for what could happen to that data if exploited by hackers.
Major companies and government agencies that took a similar approach now realize the implications of unsecured data. Successful attacks on digital systems, much like the Colonial Pipeline ransomware attack, demonstrate our vulnerabilities as a society.
"The biggest weakness in all of our systems is the human element—it's us, we're the problem," said Troy LeMaile-Stoval. "Most people don't think that they're part of cybersecurity solutions. It's a case of the weakest link in the chain is where the problem is, we need to find a way to prevent those problems from happening."
The shift in momentum within the cybersecurity industry this past year helped change the conversation and drive organizations to take action. Implementation of newly proposed policies and legislation will ensure better regulation and protection of user data.
President Biden's Executive Order
A couple of months ago, President Biden issued an Executive Order that aims to modernize federal cybersecurity, focusing on a zero-trust architecture. This security model relies heavily on continuous multi-factor authentication.
"In short, it means to trust but verify," said Dave Hughes about the order. "This is the right prescription for the future of cybersecurity. It's the hygiene of cybersecurity—keeping things clean. Trust nothing, but verify everything."
With more than 2,300 cyberattacks on government agencies, healthcare facilities, and academic institutions last year, it's clear that simply analyzing the avenues in which someone gains access to user data is no longer enough. You also have to regularly manage permissions and access control parameters.
"The intent of the executive order is about sharing and collaboration amongst government, industry, and education," said Tom Sadowski. "It mandates the sharing of information to help create standards and enhance abilities to detect vulnerabilities and respond to them."
We need to prevent attacks before they happen. This new policy highlights the value of the cybersecurity industry and the need for more talented experts in the field to do just that.
The Future of Cybersecurity in Maryland
Protecting valuable information starts with upgrading and improving digital infrastructure. Maryland's experienced professionals develop the systems needed to safeguard user data across the globe.
"Maryland can actually show the entire United States how cybersecurity is done," Hughes said. "That's how you lead, from the front, by showing everybody how it should be done because we are doing it the right way."
"I think we need to find ways to use it [cybersecurity] as a differentiator now that it's in the highest levels of government and board rooms," said Holly Neiweem. "I think it's going to be used as a differentiator for talent and to protect your brand moving forward. I'm not sure if a piece of it is marketing or if it's just the community coming together."
To further solidify Maryland as a hub for cybersecurity, we need to open new doors for our youth and continue to educate and empower the next generation of cybersecurity professionals. They will help prevent new types of attacks, outsmarting the craftiest of hackers over time.
"There's a massive opportunity for Maryland to be a leader in early identification of talent in K-12," Majernik said. "We can't battle it at the college level, it has to be very early. We also need to look at communities that have not normally been looked at—Baltimore City is a perfect example."
Maurice Boissere added: "The Maryland ecosystem has the talent and the know-how to help save civilization from itself in terms of cybersecurity."
To learn more about how Mindgrub creates high-performing digital experiences for cybersecurity organizations, visit mindgrub.com/cybersecurity.