Tips for Marketing Your Telehealth Offerings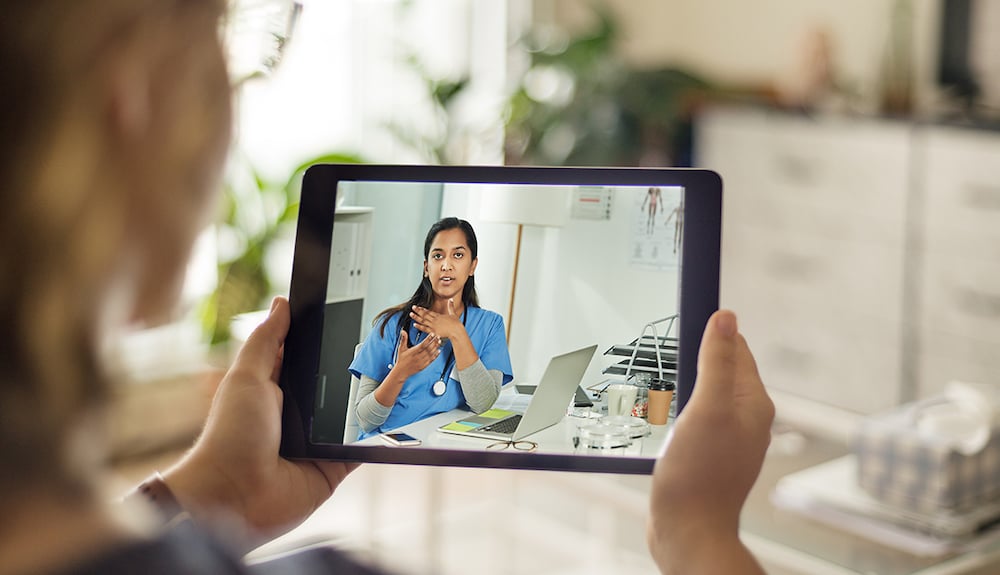 Image source: AARP
The COVID-19 crisis has led to an explosion in the use of telehealth technologies.
As the country adapts to social distancing mandates, it's as critical to build awareness of virtual care options as it is to have them available in the first place.
What is telehealth?
Telehealth describes the use of digital communication technology to support "...long-distance clinical health care, patient and professional health-related education, public health, and health administration" (source).
Telemedicine refers specifically to clinical services such as doctor/patient consultations, whereas telehealth can also include things like remote training and education.
Regardless of whether your organization offers telemedicine services or telehealth options more broadly, offering virtual connections to health resources has the potential to reduce access disparities, improve outcomes, and decrease costs.
In their overview of virtual care systems, IT strategy consulting firm Hartman Executive Advisors lists the following as benefits of telehealth:
Flexibility for patients and providers in terms of location and timing of appointments
Safety for both the patient and the provider from potential cross-infection
No need for PPE, preserving resources for in-person needs
Quality, remote interactions and examinations
Reliable, scalable and secure systems to meet expanding care needs
In fact, a 2019 survey found that nearly all respondents who had experienced a virtual visit found them more convenient than in-person consultations, and perceived the quality of care and communication to be the same or better than in-office experiences.
The challenge of telehealth awareness
If patients are so pleased with virtual visits, then shouldn't telehealth consultations be skyrocketing as a percentage of total appointments?
Apparently, if you build it, they might not come.
A consumer survey conducted in late 2019 found that while two-thirds of Americans are willing to consult with a doctor via a telemedicine platform, only 8% have actually tried it.
While some might object to trying a consultation via video due to concerns around the experience itself, this data suggests a large percentage of patients aren't leveraging telemedicine simply because they aren't aware of the option.
Whether you're a provider, a telemedicine platform, a health plan administrator, or an employer providing healthcare as an employee benefit, there are steps that can be taken from a marketing and communications standpoint to improve the usage of virtual consultation services.
Here are a couple of tips to keep in mind when encouraging your patient population to leverage telehealth.
Address potential objections in your messaging.
While a majority of patients report a lack of awareness of their telemedicine options, there are other reasons why they may not be leveraging virtual options as part of their healthcare experience.
For instance, one 2019 JD Power study found that among patients who had not used telehealth services, almost half believed the quality of care would be lower in a telehealth consultation than that of an in-person visit.
43% of respondents believed that a telehealth visit would "...lack the personal touch that office visits have."
While it's important to keep these objections in mind when building the telehealth platform itself, it's also important to take them into consideration when building a marketing plan.
One powerful type of content that can address some of these objections is patient testimonials. First-person testimonials are effective at building trust because they serve as an unbiased testament to your credibility and efficacy.
The most effective testimonials not only express satisfaction with your service, but also bring up specific pain points or components of the experience that were particularly positive.
Furthermore, when soliciting testimonials from your satisfied patient population, be sure to feature feedback from people who represent your buyer personas and utilize them in communications focused on that segment of your audience.
For instance, if you receive a great written or video testimonial from a parent of a child with chronic health issues, include his or her remarks in the email newsletters, direct mail campaigns, and page(s) of your website that discuss telehealth offerings for kids and families.
Take a multi-channel approach.
Whether you're targeting B2B buyers or patients themselves, it's important to understand the journey your audience members take to becoming regular telehealth users.
Conducting a customer journey analysis, or documenting all of the experiences that a customer has with your company, is a helpful first step towards understanding which marketing channels will be most effective.
Nearly 64% of B2B buyers report that they consume between 2-5 pieces of content before making a purchase, and 86% of consumers "channel-hop" across a minimum of two channels in the course of making a decision about an organization. For something as revolutionary as telehealth, it's important to reinforce the value of your services across multiple touchpoints.
For example: Consider the power of one targeted email about your telehealth offerings by itself.
Then, consider the power of that targeted email in concert with social media ads, blog content, educational videos, earned media in relevant publications, follow-up emails about the different aspects of your telehealth program, and printed educational materials that you make available in your providers' office locations.
Engaging with your audience across multiple channels can improve awareness of your services while reinforcing your credibility among potential users.
Implement feedback loops to optimize your offerings.
The best way to find out why some patients aren't using a particular healthcare offering is to ask them.
For instance, health benefits company Anthem found that a point of friction in the virtual visit process was the fact that their telehealth app was separate from their main mobile application. That meant users had to download and sign in to two different applications to use their benefits to the fullest.
Thanks to patient feedback, they plan on moving their telehealth service onto their main mobile application, giving users the ability to manage their care with a single sign-on.
One simple and scalable way to conduct these surveys is by employing marketing automation.
Emailing your entire patient population in search of feedback might mean emailing some people who have actually tried the telemedicine services you provide, making this communication irrelevant and ill-timed for this portion of your audience.
Using marketing automation tools like HubSpot's workflows, you can send a survey request only to those who haven't used your telemedicine offering after a certain period of time has passed since they joined your audience.
Not only will the message be well-timed and relevant to the recipients, but it will also be fully automated, reducing the level of effort for your marketing team.
Even within the current public health environment, the adoption of telehealth technologies faces significant challenges.
With targeted messaging, a multi-channel approach, and a high degree of responsiveness to user feedback, however, you can transform your telehealth program into a major driver of patient satisfaction and cost savings.
---
Interested in reaching more patients with your telehealth programming? Connect with our digital marketing team today.