Deep Dive: Integrating Netsuite ERP into the Ecommerce Experience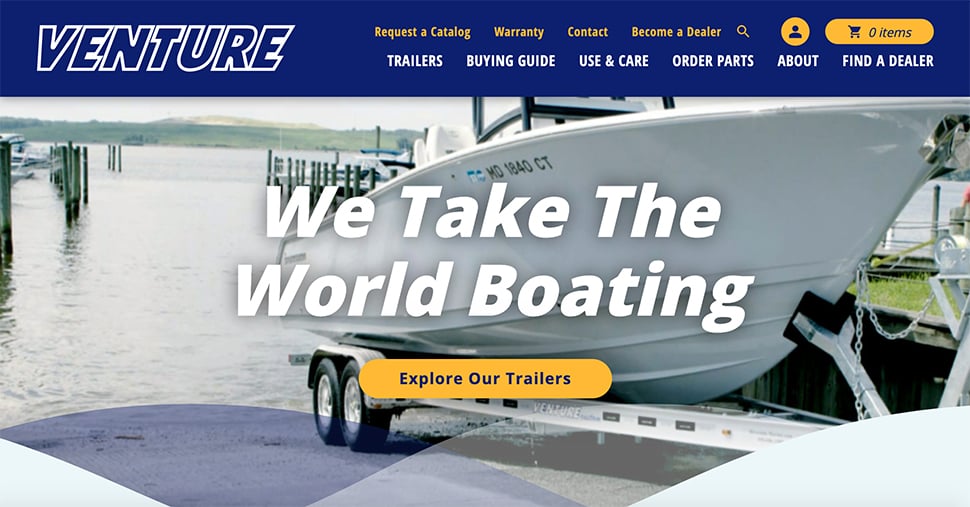 We're proud to share the latest installment in our Deep Dive series, during which we break down our approach to complex software integration challenges. Follow this link to view the first case study in the series, which highlights our work with QualityCare Connect by ArmadaHealth.
Venture Trailers is a family-owned manufacturer and distributor of high-quality boat trailers and trailer parts. Founded in 1988 in the state of Maryland, they have a long-standing reputation for quality products and exceptional customer service.
The Goal
After decades of growth driven by high-touch sales and customer support, the company identified an opportunity to (a) streamline the B2B transaction process for dealers and (b) create a new revenue stream through direct-to-consumer ecommerce sales.
Given the company's unique position as a manufacturer, distributor, B2B supplier, and B2C retailer, integration with Netsuite, their enterprise resource planning (ERP) system of record, was a vital contribution to the website rebuild's success.
Why Netsuite?
Netsuite is the world's leading integrated cloud platform ERP that helps businesses manage inventory, track financial information, facilitate order fulfillment, manage customer relationships, and deploy digital marketing campaigns. Given the strong distinctions between Venture Trailers' two buyer segments (B2B resellers and consumers), a core function the Venture team sought in a management tool was segmentation. Netsuite's CRM functionally allows the team to design, execute, and analyze the effectiveness of digital experiences for each segment, helping them optimize their strategy over time.
Furthermore, Netsuite is highly flexible; with engineering support, the platform itself can be configured based on a business' operational workflows and scaled to meet the needs of growing companies over time.
The Integration Roadmap
Our team utilized Netsuite's SuiteTalk SOAP web services to seamlessly extend and integrate third party systems (in this case, WordPress and Woocommerce) with the company's Netsuite instance. Connecting the elements of their digital ecosystem using Netsuite's available APIs allows for real-time data integration across platforms, hands-off error handling, strong data security, and customization of user types (B2B and B2C) and business logic.

After gaining an understanding of how Venture Trailers managed inventory, shipping, and other elements of their ecommerce experience, our team created a custom connector library relating customer and product data in Wordpress/Woocommerce to customer and product information in Netsuite.
The two-way integration also ensures that any product information (inventory, description, etc.) updated by the team in Netsuite is reflected on the website, as well.
A Cohesive Digital Infrastructure Built for Growth
With the strong integration between Venture Trailers' website, ecommerce platform, and business management system, the team has been able to take full advantage of Netsuite's ability to support custom business logic and workflows.
For instance, we created a way for dealers (B2B customers) to sign up on their WordPress website by entering a unique dealer code. Once their customer status was authenticated in Netsuite, they'd enter a separate workflow, gaining access to wholesale pricing that's not available to B2C consumers, and opt in to marketing communications that are relevant to them.
Since launching the new website,
80.39% increase in users
82.32% increase in new users
$500,000+ in Sales Revenue
6,800+ unique purchases
With their new, fully-integrated digital ecosystem, Venture has provided a seamless end-to-end experience for their multiple customer segments through one powerful platform.