Combat Disruption with Digital Transformation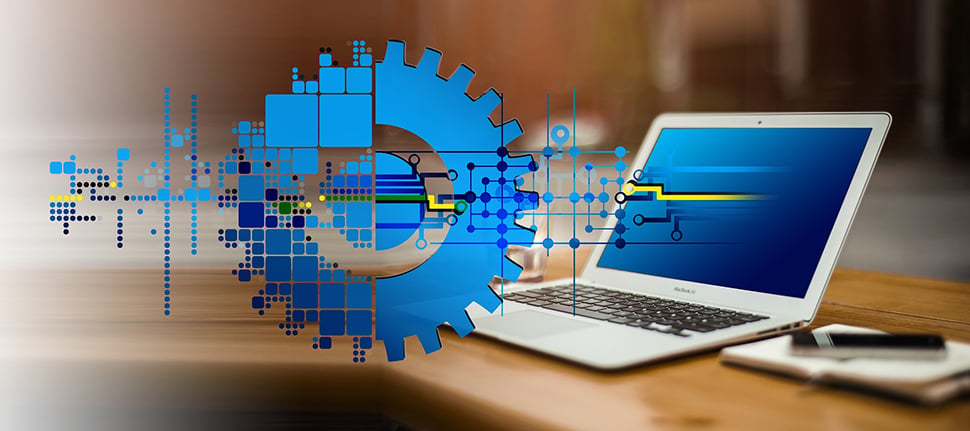 We're living in unprecedented times - times marked by disruption, uncertainty, and seemingly enormous risk. For businesses in some industries, a social distancing mandate will undoubtedly threaten their growth model, and it will be our job as community members to support them in any way we can.
For others, however, creating a digital transformation strategy can help maintain business continuity. Not only will they be better positioned to meet their business goals now, but they'll also be better prepared to move their business operations online in the future.


What a digital transformation entails
Digital transformation can be defined as, "...the strategic adoption of digital technologies. It is used to improve processes and productivity, deliver better customer and employee experiences, manage business risk, and control costs."
A strategic approach to implementing technology can help you build meaningful relationships without meeting in person, stay connected to your team members (and to your customers) while working remotely, and maintain the performance and security of your systems from afar.
This is not the first time our company has been forced into operating remotely. In 2016, construction teams in our office building accidentally filled our entire server room with cement, causing our networks to go down.
Luckily, this served as a wake-up call for us. We spent the following weeks moving our infrastructure to the cloud, integrating remote communications and productivity software, and building a digital marketing plan that could generate leads for our business while we went on an in-person networking hiatus.
It goes without saying that the current COVID-19 crisis is different - we, like everyone, have had to make some significant adjustments to our overall business strategy over the past few weeks.
What's important to note is that "going digital" is an effective response to multiple sources of disruption.

Move your business operations online
When you think of the activities that matter most to your business, what touchpoints can become digital?

Do you rely heavily on trade shows or networking events for lead generation?
The opportunities to meet prospective customers, build relationships, and identify opportunities through in-person conversations are all but gone right now, but that doesn't mean that your pipeline has to dry up completely.
Generating qualified leads with educational webinars, targeted digital media, and value-added content marketing is an effective way to meet your customers where they are - the digital world - while making sure they come out the other side of this crisis more informed and better positioned to compete in their field.


Do your standard operating procedures depend on activities that are on-site and in-person?
There's a difference between investing in lots of software that enables remote work and strategically constructing a technology stack that will fuel sustainable productivity and growth.
Systems like your customer relationship management (CRM) software, your IT help desk, your project management tools, and your file sharing services should not only be flexible to allow for remote operations, but they should also integrate well with one another to keep productivity and transparency high.
If, for security or functionality-related reasons, there isn't an out-of-the-box digital solution that meets your needs, consider how a custom software tool could mitigate risk to service delivery in the future.
No matter what, as more parts of our daily lives move to the digital realm, it's critically important to test your digital systems for accessibility. Auditing your web or mobile properties for components of digital inclusion and making the requisite updates will ensure that you can connect with the roughly 15% of worldwide citizens with a disability.

Do you have the internal resources required to maintain the performance and security of your digital presence?
Today, your storefront is your website and your message, if it is to reach your target audience, has to be delivered virtually. It's more important than ever to have a website that attracts organic search traffic and a marketing engine that supports your authority in your industry.
Investing more in your digital operations also means you have more to lose if the security of your systems is put at risk. For instance, Drupal, one of the world's most popular web platforms, is phasing out support for websites built on Drupal 7 in 2021, which will leave those websites at immediate risk of cyber attack.
If you require more consistent support than you have internally, enlist the expertise of a managed service provider to make sure your systems are monitored, upgraded, optimized, and secured.


Is your website, web application, or mobile application hosted on premises?
As more and more people are instructed to avoid public spaces like the office, it becomes even more of an imperative to migrate digital systems to the cloud. Furthermore, as uncertainty continues and more of your touchpoints with customers move online, it will be increasingly important for systems to be scalable, reliable, secure, and cost-efficient.
Migrating mission-critical applications to platforms such as Amazon Web Services, WordPress VIP, or Pantheon free up your internal resources to dedicate more of their time to projects that help maintain business continuity and less towards tedious systems administration tasks.


As we continue to make our way through these challenging times, I want to know: How can our team support your digital transformation? No matter what the answer, I look forward to growing in solidarity with you, this season and beyond.
---
Interested in learning more about how digital marketing, website and mobile development, managed services, or systems integration can help maintain business continuity during this time of disruption? Mindgrub's fully onshore and remote-capable team is eager to support your goals. Contact us today.