44 Tips to Write a Stellar Tech Grant Application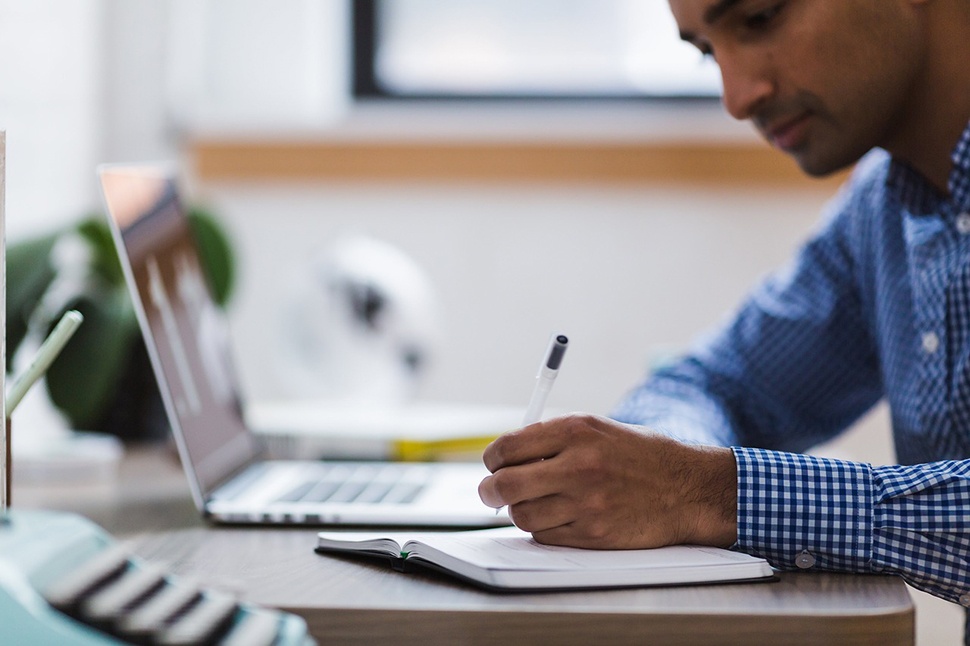 Foundations are feeling more charitable than ever. In 2017, donations totaled $66.9 billion, a 6% increase over the previous year. And giving totals reached a new all-time high for the third year in a row. That's a lot of potential funding for tech-minded nonprofits!
But scoring a grant, especially a technology grant, is no easy task. To do so requires research, hard work, and an awesome grant application.
So, in honor of National Nonprofit Day, we rounded up some helpful hints to assist in making your next technology project grant application stand out above the rest.
Before you start writing
1. Be sure you have the time. Commit to setting aside enough time to research foundations and grant writing.
2. Know the different types of grants.
3. Read grants that have been awarded. It's a great opportunity for professional development, especially if you've never written a grant before.
4. Make sure you have strong mission and goal alignment. If you're not sure whether the activities you're seeking to fund qualify as mission-related or mission drift, ask someone unaffiliated with your work to weigh in.
5. Create a diversified funding plan. Grant-awarded money should account for no more than 20% of your operating budget, which should not come from only one donor. If you lose a funder, you don't want to be out 20%.
6. Commit to a grant only if:
• You match all the foundation's qualifications;
• You're willing to research and write tailored applications for each foundation; and
• The type of funding matches what you already identified in your fundraising plan. (e.g., don't decide to apply for capital funds if what you really need is unrestricted funding).
7. Consider finding a qualified writer or invest in grant writing training.
8. Give the grantor a call! They may be willing to talk, which can help shape your proposal and give you someone to address it to.
9. Think about what you're really going to get out of the grant (besides the money). It's a chance to build a relationship and "have someone else in your corner." Being awarded money is not the end result; think about the partnership you're starting by building a strong relationship.
10. Examine the potential donor's transparency. The strategies, priorities, goals, and review processes need to be clear and should hint at what you should emphasize in your application.
11. Do your research and have a well-thought-out plan. You should be able to respond to questions related to each of these nine points:
• Organization background and experience
• Financial health
• Program partners
• Program description
• Program timeline
• Measurement plan
• Sustainability plan
• Communications plan
• Detailed budget
12. Include a team, specifically your partners and intended beneficiaries. Chances are, someone else may know the technology you're applying for better than you do. Make sure you are all on the same page.
This is a great volunteer opportunity. Have an expert donate an hour of his/her time to really dive into the technical details of your proposal. As a result, you'll be prepared with an accurate representation of what you're proposing to do with foundation money.


Writing tips
13. Don't procrastinate. Procrastination results in decreased performance. Plus, it can lead to stress, illness, and money loss.
14. Pay strict attention to the guidelines. If things are unclear, ask questions. Repeat tip 8!
15. Organize your proposal in the way the application is formatted. Structure it in a way that is easy for the reviewer to go through and check things off.
16. Follow directions! Reviewers may be told to ignore extraneous pages in an effort to be fair.
17. Don't send unnecessary attachments (see tip 16).
18. Loose guidelines? Try setting things up in a 4-step framework:
• Need in the community
• How you address that need
• What it costs
• How the funder can help

19. Spell out your need. Be specific! Target a specific project, rather than general support.
20. Differentiate yourself. What makes your organization unique?
21. Be honest in sharing information on actual operating costs.
22. Make sure your math adds up. Your budget needs to be credible.
23. Be a good storyteller. Make the reader fall in love with your organization.
24. ...but don't forget to use research and data to backup your story.
25. Be solution (not problem) oriented and focus on the intended outcomes of implementing new technology.
26. Stay positive. You don't want to talk about how desperate you are because donors may not want to fund a cause that could go belly up at any moment.
27. Eliminate industry words, jargon, and ten dollar words. Aim to be concise.
28. Use lists when possible to conserve word count and keep things easy-to-read.
29. Use your resources, like friends, grant reviewers, and this post!
30. Don't get "trapped in the app." Think of the application as a set of guidelines, and go beyond the required answers when you feel the need to.
Avoid making these mistakes
31. Applying for a grant that's outside your means. As a rule of thumb, don't apply for a grant that's more than half of your organization's operating budget.
32. Putting volunteers in charge of grant writing, and then not trusting them with your financial details.
33. Not personalizing your application. Don't reuse the same application for a different grant; try to write each one to a specific person you've spoken with.
34. Being too general. Don't ask for general funding; be specific in your request for technology. State what you want and how it will be put to use.
35. Talking about "cutting edge" technology. Chances are the tech company you're appealing to has already heard about it. They could already be using it, or they might expect that the "cool" factor won't last.
36. Applying for grants without a plan for impact measurement. You need to include the following:
• What KPIs will you measure?
• How will you measure them (e.g., survey, pre/post test, analytics tools)?
• When or how often will you take those measurements?
• Who is responsible for taking those measurements and analyzing/communicating the results?
Remember that it's important to demonstrate to funders that you can manage each step of the grant lifecycle.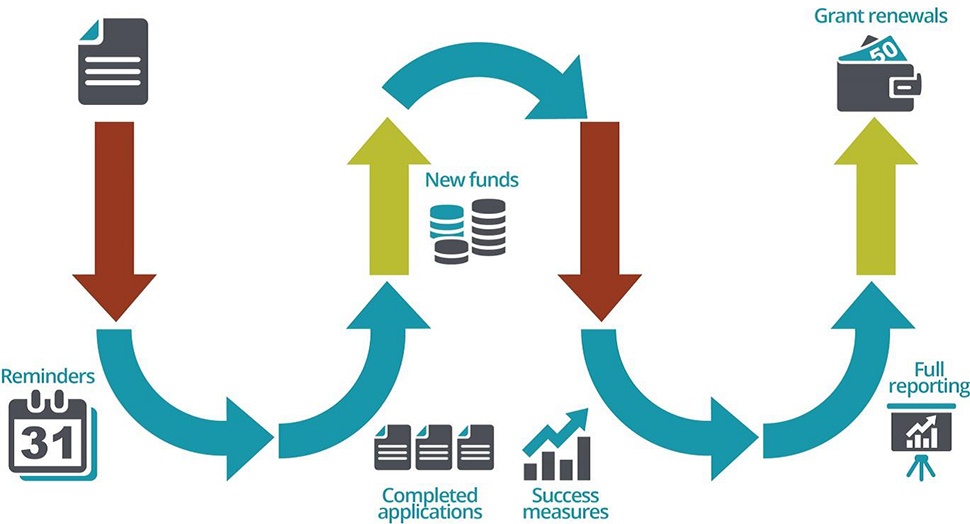 Courtesy of Forward Together and Abila.
37. Forgetting to send a thank you note after each and every interaction.
38. Forgetting to include your mission statement. You should be proud of your mission!
39. Not sharing your grant resources with other nonprofits. Sharing could lead to great partnerships and other nonprofits might return the favor.
40. Getting too comfortable with your grant-writing abilities. Keep learning, keep honing your writing skills, and seek professional development opportunities.
41. Not asking your board of directors for input.
42. Discarding records. You never know when you might need them again.
43. Trying to do it all on your own (see step 12).
44. Know that not every attempt will work out. Don't get discouraged! Think of it as a "no for now." Grant writing is about playing the long game.
So there you have it! Forty-four tips to help make the tedious and challenging task of grant-writing just a little bit less painful.
Now all that's left is to get started (remember tip 13!).

If you're looking for some help with your technology project, our consulting team can help.