3 Trends Shaping Digital Strategies for Utilities [DISTRIBUTECH Recap]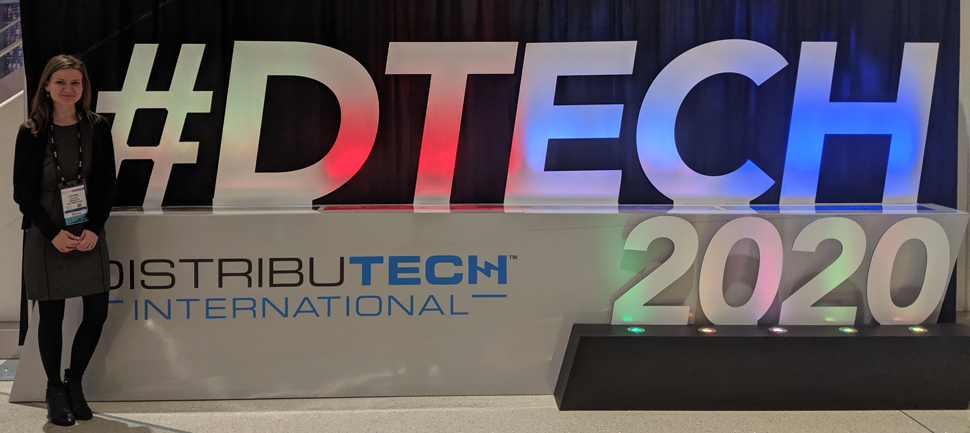 According to the International Energy Agency, global energy consumption will increase 25% by 2040.
In addition to rising energy demands and evolving customer expectations, leaders in the utility industry are considering their organization's response to global climate change and the need for clean energy alternatives to traditional energy solutions.
Questions about global sustainability were certainly on the minds of the 12,000+ attendees at this year's DISTRIBUTECH International, the utility industry's leading transmission and distribution conference.
The keynote on opening day highlighted similar overarching themes within the energy industry as well as the importance of value—adding value to the industry's intelligent, interconnected systems and valuing customers, rather than seeing them simply as ratepayers.
Each session provided attendees with insightful information about the latest in electricity delivery automation and control systems, energy efficiency, demand response, renewable energy integration, advanced metering, communications technologies, and much more.
Let's take a look at three major trends in digital, on-the-go technologies that energy experts are researching, developing, and incorporating into their operations.
E-Mobility and EV Infrastructure
Electric vehicles or electrified transportation has been around for quite a while, but it hasn't taken off until quite recently. EV has become more ubiquitous and is often a major component of smart city initiatives.
As a result, there is a growing demand for charging stations, power generation, and other components of EV infrastructure to support more electric-powered vehicles.
While this is a unique opportunity for utilities, it also has its challenges and raises questions around:
the expansion of customer opportunities


utilities functioning as retail organizations


logistics associated with distribution and set up of charging facilities
DISTRIBUTECH's e-mobility and EV program offered attendees a chance to delve into these issues during mega-sessions, knowledge hub sessions, and several other opportunities.
As consumers gravitate more toward e-mobility and EV, they will expect more opportunities to engage with their utility digitally.
In order to address this shift in customer expectations, utilities should evaluate their marketing and digital strategies, asking these types of questions:
Does your website need significant changes or new features to help educate visitors?
Do you have a mobile application that caters to the needs of your customers on the go?
Adding location-based features to mobile apps, for example, is already a major trend among retail brands.
Mindgrub collaborated recently with Royal Farms and Yamaha on their mobile app projects. A must-have for each company was to incorporate location-based services. Customers can now easily find store/service locations relative to their exact location.
This concept could be applied to mobile apps for utilities as well, to help consumers locate the nearest EV charging stations, and support transactional elements such as paying for use.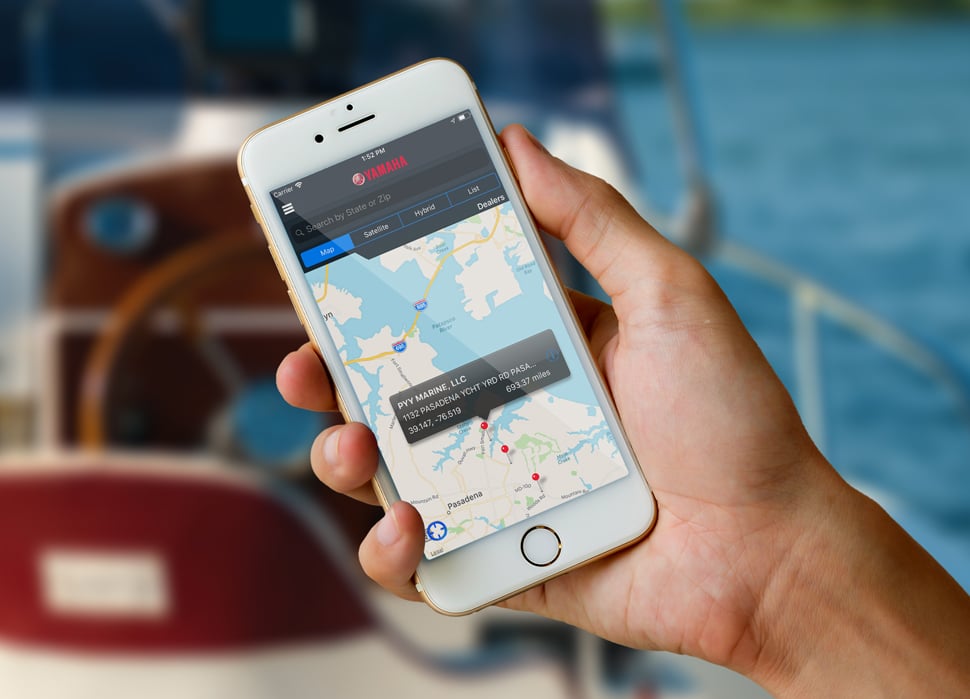 Yamaha's mobile app helps customers find service locations
Asset Management
Utility asset management is largely driven by increasing grid complexity and modernization, requiring advanced sensor and communication technologies. These advancements in tech provide utilities with more data and allow for better connections between field, generation facility, and operations units.
DISTRIBUTECH's asset management track covered how asset strategy, asset performance management, and asset investment planning helps inform decisions related to maintenance and quality control.
Session speakers shared real-life experiences and results with regards to asset management approaches. The Innovative and Emerging Approaches to Utility Asset Management session provided some examples that included ConEd's use of robotics for breaker maintenance, Laserpas' research on combining inspection tools for asset and vegetation inspections, and the U.S. Department of Energy's innovative advanced sensor development project.
Utilities can digitally catalog assets and, with the help of machine learning and geospatial technologies, for example, can quickly gain valuable insights—a significant upgrade from manually cataloging assets.
Real-time asset management helps utilities minimize preventable failures, increase response times for physical asset maintenance, and improve upon customer-centric strategies.
Even better, mobile technologies allow for real-time asset management while in the field or on the go.
Quick Response (QR) codes, augmented reality (AR), and geolocation technologies paired with mobile apps or web portals make it possible for utility workers to view and gather information off-site.
As an example of the effectiveness of such mobile implementations, over the past several years, Mindgrub has collaborated with H.B. Fuller, an international adhesive manufacturer, to design and develop an employee-facing mobile app for its sales representatives. The app makes it easy for their sales team to find stock and related specifications while speaking with customers, and improves their chances of closing deals in the field.
Solar and Energy Storage
Investing in alternative or renewable energy sources is a priority for many utility companies. However, making the necessary changes to your business model and infrastructure is a challenging endeavor.
To help address the obstacles associated with centralized and distributed energy storage technologies, DISTRIBUTECH offered an energy storage track with sessions that provided attendees with real, replicable examples.
Check out this video about what one organization is doing to help regulators give access and value to grid-based storage.
Solar energy was a hot topic of discussion at DISTRIBUTECH, and it was the only renewable energy source that had a dedicated experience at the conference.
As larger and more innovative renewable energy solutions come online, well-executed web and mobile user interfaces (UI) will be critical.
We recently worked with Morningstar, an international supplier of off-grid solar charge controllers and inverters, to develop a UI for their 4kW MultiWave™ Inverter/Charger. Through this easy-to-use digital experience, customers are able to control settings and review data using a customizable, card-based dashboard. The powerful, web-based user interface will help position the company into being one of the most competitive in the market.
Conclusion
Energy efficiency and sustainability are top-of-mind for utilities and their customers.
DISTRIBUTECH facilitated thought-provoking discussions about key technologies in electric transmission and distribution.
The three digital, on-the-go technology trends that utilities should consider in their digital strategies are:
E-Mobility and EV Infrastructure
Asset Management
Solar and Energy Storage
While we're in this energy and digital transition, it is important to prioritize your customers. Tailoring your digital marketing strategies to meet their needs and expectations will give your company a competitive advantage for years to come.