Our Top Four Takeaways from Chartwell's PowerUp Conference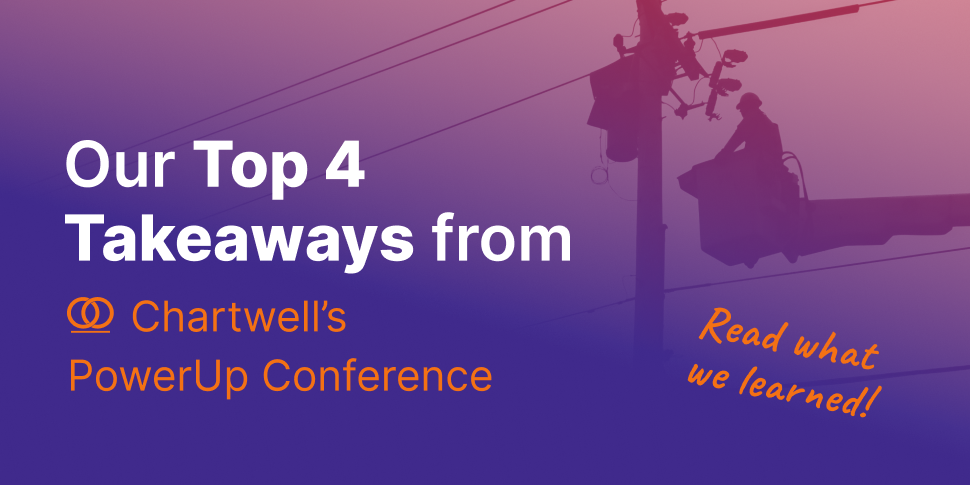 The Mindgrub team had a great experience attending Chartwell's annual PowerUp conference! PowerUp is geared towards providing attendees with the latest insights on outage communications management and features experienced speakers from a multitude of utilities backgrounds and partners. This posed the perfect opportunity for Mindgrub to get the latest information for our utilities and energy clients.
Today, we want to share the top four trends in enhancing outage communications.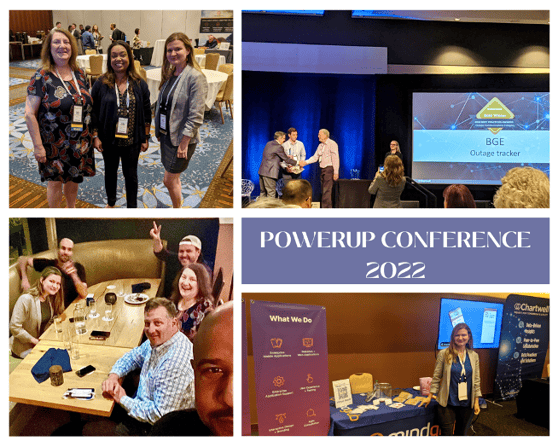 Snapshots from the conference
Trend 1: A mobile-first strategy for outage communications is becoming increasingly important
It's apparent that customers are using their mobile devices to interact with their utility providers more and more each day. From bill payments to outage reporting, a mobile-first approach enables customers to easily engage with the utility, on their preferred device.
Chartwell's Outage Communications Benchmark Survey data supports this trend, showing that mobile applications and text message communications have the greatest impact on customer satisfaction. By providing a feature-rich mobile application to customers, utilities are able to easily communicate with their customers during an outage event and allow for self-service actions such as reporting an outage, checking the status of an outage, and viewing the outage map for real-time updates. Enhanced features such as outage trackers, storm mode, meter ping, push notifications with outage updates, and more improve customer experience during outage events by providing granular and accurate communications.
The utilities industry is recognizing the power of a mobile-first approach, with many utility companies currently offering mobile applications, or planning to release one in the future. According to the Chartwell Outage Communications Industry Benchmark survey, mobile-first technologies dominate what the industry sees as critical to achieving their outage communications-related goals.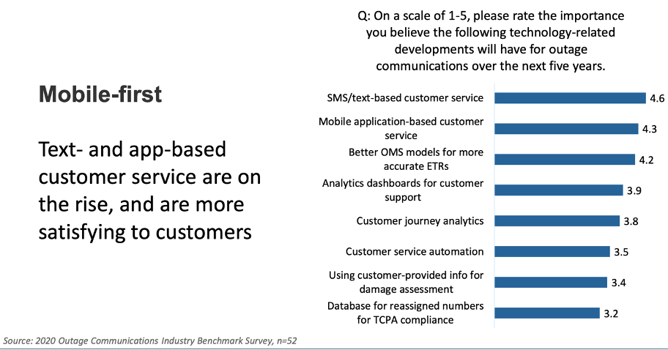 For more information on mobile applications in the utility space, check out case studies by utilities, including LGE&E KU and Entergy. →
Trend 2: Auto-enrollment is a hot topic of discussion
Throughout the conference, many in the utilities industry spoke about their experience with auto-enrollment initiatives. Historically, utility companies have shied away from auto-enrolled over concerns related to the Telephone Consumer Protection Act of 1991. However, in 2016, the federal government provided clarification regarding an exemption for utility companies communicating critical information to the community, outages falling under this classification.
While a bit slow to take off, data shared by Chartwell demonstrate a strong trend of utilities increasingly auto-enrolling customers to receive push/SMS alerts during outage events. Utility companies that took the plunge reported higher customer satisfaction during outage events and incredibly low opt-out rates by customers.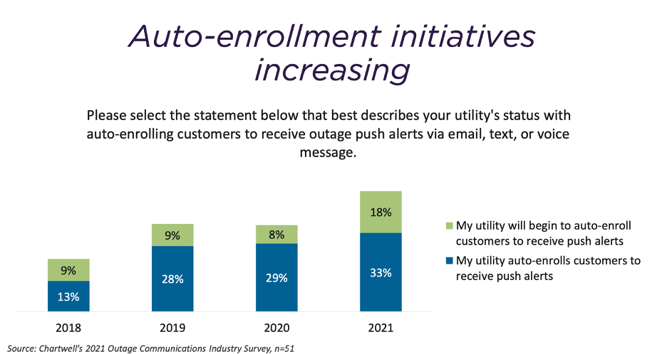 Trend 3: Personalized outage communications improve customer satisfaction
Outage events can be a source of great stress for customers. By providing near real-time updates to the customer about their outage, utilities companies can help mitigate a naturally stressful event. Utility companies are providing more granular information to the customer, including estimated restoration times, the status of the crew, the cause of the outage, and more. By investing in platforms to display this information (such as web and mobile applications) and in the backend systems required to provide accurate information, utilities can benefit from both higher customer satisfaction and reduced call center volume.
Winners of both the Gold and Bronze outage communications awards at this year's conference, Baltimore Gas and Electric spoke on how they deployed an outage tracker. The outage tracker provides highly granular information to customers through the outage event, representing each touchpoint.
Check out the case study for more information on BGE's award-winning mobile application. →
Trend 4: Being agile is critical.
With all of the innovations being explored during the conference, one major topic of discussion was how utility companies approached these projects. A common theme emerged: the adoption of agile software development and practices. Numerous utilities, including Georgia Power, spoke about their team's adoption of agile software to achieve outage-related initiatives. In particular, many utilities pointed to the use of customer journey mapping as an incredibly useful tool in guiding their new process, focusing on identifying friction points and tackling small initiatives to alleviate pain points.
As proponents of agile in the utility space, Mindgrub was happy to see that a large number of those within the utilities industry have adopted various flavors of agile to meet their goals, incorporate the voice of the customer, and deploy solutions to customers in record time.
In sum, the conference provided a wealth of information about how utilities can enhance their communications during outage events. We hope to see you at next year's conference!
Contact our team to learn more about our involvement with the utilities industry.