How to Improve Your App Store Reviews [6 Tips]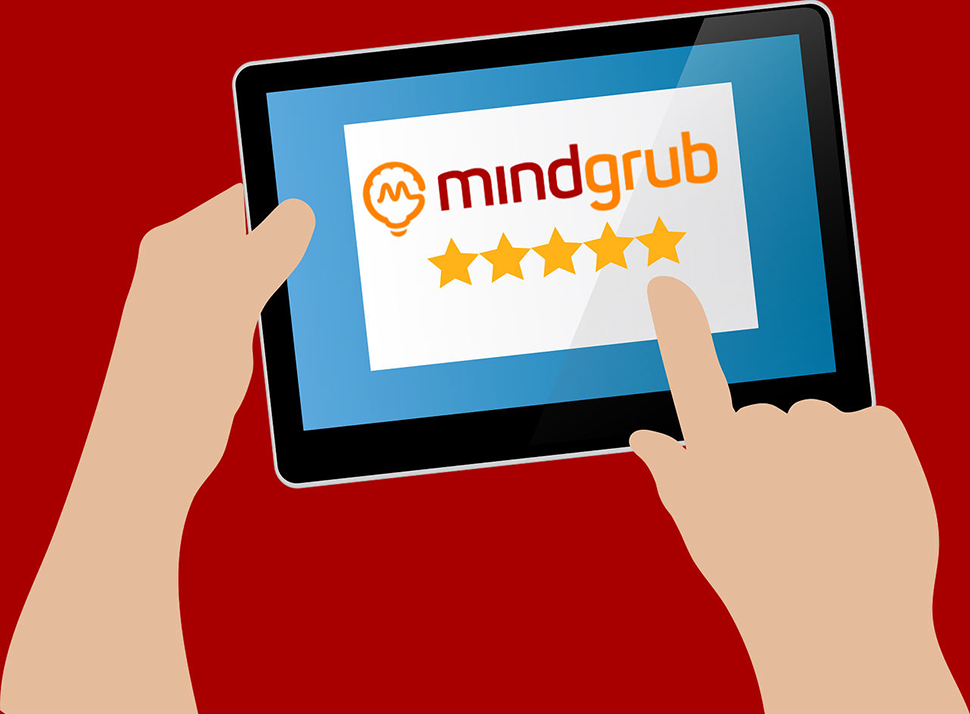 When was the last time you purchased something online without checking the reviews first?
According to a study by Apptentive, only 8% of people said star ratings have little or no influence on their evaluation of an app.
That's equal to the number of people who actually achieve their New Year's Resolution each year.
On the other hand, 59% of people usually or always check ratings before downloading an app.
That's the equivalent of over 193 million Americans, or every person in 43 out of the 50 states letting the stars guide their decision-making.
You could say reviews are pretty important.
How many stars does it take to win over the majority of potential users? The chart below shows the percent of people willing to consider downloading an app based on the average star rating.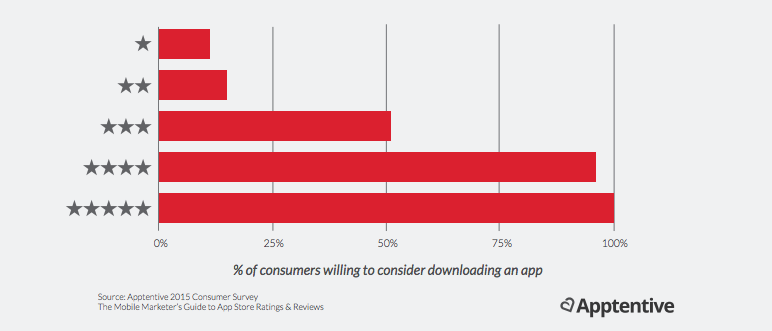 Only 15% of people would even consider downloading a 2-star app, and just 50% are willing to consider 3-star apps.
In addition to influencing the user's decision to download, ratings play a significant role in your app store ranking.
Two of the main factors impacting your app store ranking are the number of downloads and the average rating. As the stats above show, most people are influenced by ratings, so the more ratings you have, the more downloads you'll get, and the higher your ranking.
Now that we're clear on why ratings are important, let's dive into how you can get a greater number of positive reviews.
1. Encourage feedback
When looking to boost your ratings, a great place to start is by simply letting your users know you want their feedback. Ask your most loyal users for their thoughts. If your app is new to the app store, consider asking people you know to download your app and test it out.
Workflows are a great way to automate the process. Try creating an automated email asking new users for their feedback. You could set it up to send to new users one month after they create their account, and ask for their feedback in the form of a survey. Those that complete the survey could receive a follow-up email, thanking them for their feedback and prompting them to leave a review in the app store.
In your emails, you could also provide instructions on how to contact support in case the user finds a bug, has a feature suggestion or needs to file a complaint.
Remember to be truly open to their suggestions (more on this in tip two).
2. Make customer service a priority
The majority of one-star reviews come from customers who are dealing with bugs and glitches. They may not be aware of other channels for customer support, so they express their frustration in their app store review.
A great first step is to make sure your app store profile is complete with contact information so that users can reach out in the event of an issue. You want to make it easy for them to get in touch with you to funnel complaints away from the app store.
If you have permission to email your users, again consider including instructions for contacting support in one of your automated onboarding emails. If you want to make it a truly friction-free experience, consider building into your app a place where users can contact support with any issues or suggestions.
Social listening is another great way to stay in touch with your users and take care of any complaints that may surface on social media. Many brands even set up specific social media accounts for customer service or support. If you have the time and resources, social media is a great way to engage with and respond to your users in a timely, convenient manner.
Equally as important as collecting their feedback is acting upon it. Listen to reviews, fix the bugs, solve their problems, and improve the app whenever you can. Timeliness is important. Making your users feel heard will go a long way towards building loyalty - and avoiding negative reviews.
3. Monitor incoming reviews
By putting a process in place for monitoring reviews, you can stay on top of user sentiment. With the help of a tool like Appfigures, you can receive alerts via Slack, email, or push notification anytime a new review is posted, and you can view them in aggregate along with a wide variety of app store optimization related insights.
As soon as a negative review is posted, you'll be able to spring into action. Does that person raise a valid complaint? Have they found a new bug? Respond promptly, letting them know you appreciate their suggestion, or that you are actively working to squash the bug they've discovered.
Have a few templated responses prepared to address common complaints. You won't have to compose a new response each time you receive a less than stellar review, saving you time. Timeliness goes a long way when it comes to customer service. In fact, according to a Customer Service Experience Study by Interactive Intelligence (now Genesys), a timely response trumps all other aspects of customer service - even quality (although we wouldn't suggest completely forgoing quality in favor of speed).
Respond to your all-star reviews, too. Thank those users who took the time to leave a glowing assessment of your app. It shows you appreciate their time, and that you care about the person - not just their star rating. Plus, these people are big fans of your app. Their loyalty is important, and by treating them well, they may share your app with others via word-of-mouth or social media.
4. Use a review prompt plug-in
There are plenty of plugins available (for both iOS and Android) that you can use to create customized prompts asking users to review your app. Some of the most popular options include:
Appirater for iOS - an easy to implement, simple pop up request


Apptentive - allows you to send custom in-app notes, surveys, polls, and reminders based on user's activity


Helpshift - a robust customer service platform, allowing customers to use in-app chat to communicate with support - provides for some customization of the review prompt, but the focus is on managing customer support
Some prompt plugins, like Apptentive, allow you to set up intelligent prompts. An intelligent prompt asks a qualifying question before asking for a rating. The qualifying app usually asks the user if they are enjoying the app. Depending on the response, the user is either given a second prompt asking for a review, or they are presented with a way to offer feedback, usually in the form of an email or survey, to your team.
Setting up intelligent prompts is a great way to boost your star rating because only those who are enjoying your app are asked to leave a review. Apptentive found starting with a qualifying question to be 5 to 10 times more effective than asking for a review outright.
5. Ask for reviews at the right time
You probably don't want to ask a user to review your app the very first time they log in. Nor should you ask while they are in the middle of completing a task, like playing a game or paying a bill. No one wants to be interrupted.
Instead, ask users to review your app at times when they are likely to feel satisfied with the performance of your app, like after they pay their bill or beat the next level of their game.
If your user is satisfied, they're significantly more likely to leave you a positive review than, say, if you ask them to review right when they've opened the app.
The same timing consideration goes for any requests that may go out via email. Don't email a user to review your app if they created their account yesterday.
6. A/B test your review prompts
Not certain when the timing is right to prompt your user? Try A/B testing.
A/B testing is an iterative process, where small changes are made to a control variable, and then tested to see if version A (the control) or version B (the modified variable) leads to a higher conversion rate.
For instance, you could test if you earn more reviews by prompting a user after they complete a purchase or after they add an item to their cart.
Three main areas to focus on in order to boost reviews are the timing of messages, the wording of the message, and who you are targeting. Hypotheses you could test:
Do you get more responses if you ask at night versus in the morning?


Does saying please lead to more reviews?


Are those that open your app two or more times a day more likely to leave a review than those that open it less frequently?
The number of tests you can run is virtually infinite. Because this is the case, you'll want to establish a plan. Keep track of those conversion rates and analytics, too. Make you run each test long enough to reach a sample size that is large enough to be representative of all users, and therefore is significant.
Summing it up
How to Improve Your App Store Ratings:
Encourage feedback
Make customer service a priority
Monitor incoming reviews
Use a review prompt plugin
Ask for reviews at the right time
A/B test your review prompts
The bottom line
Above all, engage with your users. Treat them like real people, and give them the best experience you can. After all, you're making this app for their benefit, not just yours. If you can keep your audience at the center of everything you do, you'll be on the right track.

Need support in creating and maintaining a 5-star mobile app? Give us a call; we're here to help.