Getting Down to Business with Baltimore's Black Entrepreneurs [Webinar Recap]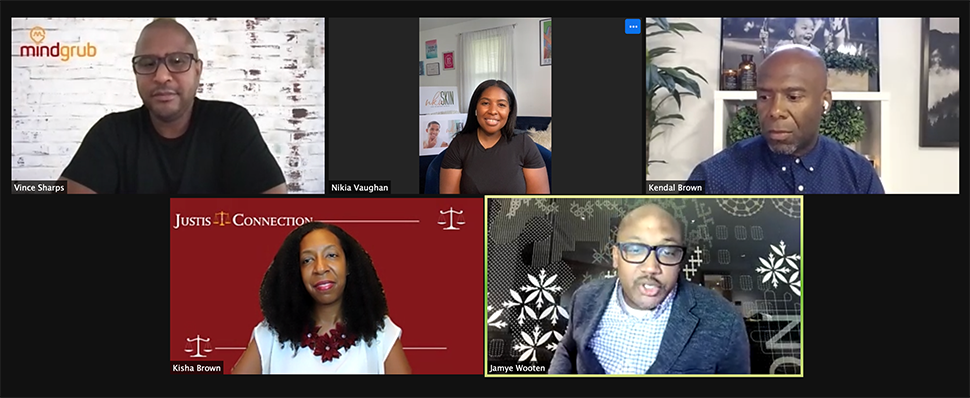 Have you ever wanted to start a business but weren't sure where to begin? To address the challenges many entrepreneurs face, Mindgrub and CLLCTIVLY partnered to host the first Baltimore Rapid Ideation Skillshare Event (RISE).
Technology company leaders and Baltimore entrepreneurs discussed obstacles they've faced and how they overcame them, and shared resources and grants that helped them on their journey. The webinar, just one segment of a three-day event, helps bring visibility to the entrepreneurial landscape in Baltimore to increase opportunities for Black/African-Americans in the region.
Our Baltimore RISE entrepreneurial panel included:
During this discussion, these business owners detailed the strategies that helped them survive and thrive.
Check out the full recording of the webinar and some key takeaways below.
Baltimore's Current Entrepreneurial Environment
Within Baltimore, a dynamic entrepreneurial ecosystem flows with talent from every corner of the city. As we deal with the ongoing effects of a global pandemic, it's more important than ever to uplift businesses, especially minority entrepreneurs.
Jamye Wooten founded CLLCTIVLY three years ago as a resource that finds, funds, and partners with organizations that promote social change in the Black community.
"I'm hopeful around the ecosystem that is building. . .even this partnership," said Jamye. "I hope that we can continue to build and support Black-led organizations."
Kendal Brown, who founded his candle-making business to create affordable, luxury-scented candles, adds, "There is a huge groundswell here in Baltimore of entrepreneurs who are making things happen. It's exciting to watch that unfold."
What motivated or inspired you to start your business?
Inspiration can come from anywhere. Whether it's a need in the community or something personal, each member of our panel pinpointed a specific occurrence that began their journey.
Kendal strived to work for himself. "I'm a horrible employee, I don't work well for other people, I realized that early on," he said. "I tried to come up with a plan to be able to, in the words of James Baldwin, 'Go the way my blood beats,' and I found this path."
Personal reasons drove Nikia Vaughan to start her skincare line. Her husband and daughter "live vibrantly" with sickle cell disease, but her daughter requires specific safety measures.
"I needed to come up with some residual income and my family and friends always asked how my skin looked so good at 40," she said. "I let them know about the natural skincare products I was using and making myself. I bottled up about 50 samples and I put them on my website and they sold out."
Motivation comes in many different forms, oftentimes it's as simple as finding a more efficient process for your current work. Kisha Brown founded Justis Connection, a black-owned law firm, after 15 years of work in the industry to empower, educate, and equip the Baltimore community with legal resources.
"I had an aha moment, and wanted to build something myself—I want to use my time and talents for my own vision and not someone else's," Kisha said. "I wanted to address what I find is important and not have to convince someone else about the importance of advocacy, and empowering Black communities and be able to chart that path myself."
Useful Skills
It takes a myriad of skills to start and grow a business. Hard skills (like accounting and marketing) and soft skills (like compassion, time management, and building relationships) are equally imperative for success.
"I've always encouraged young entrepreneurs from the jump to find a banker, an accountant, and a lawyer, and start those relationships from the jump because they will pay off in the long run," Vince Sharps said to open the dialogue.
When Kisha launched Justis Connection she re-evaluated her strengths and weaknesses and worked to find a balance between the two.
"I feel like I'm the master of none. I'm the CEO and the janitor at the same time," she said. "You have to pick up a lot of things you aren't comfortable with. I'm doing more on social media, which I'm very intimidated by, but that's why you get a team. It's having patience and giving yourself grace, and that takes practice."
Entrepreneurial Challenges
"Challenges in the nonprofit space have been fundraising and access to capital," Jamye said. "We've been blessed to have a lot of support from the community, but it's an ongoing process looking for those donors and multi-year commitments."
Kisha added: "Access to capital for Black businesses is so vital. For me, it's building my team and having to rely on others for those things I'm not good at . . . bringing in people who believe in the vision. I believe partnerships are the way to do that."
Luckily, there are a wealth of resources available to entrepreneurs beginning their journey (check out a few of them below).
The Best Pieces of Entrepreneurial Advice
To wrap up our discussion, we asked each panelist what advice they would share with those looking to start their own entrepreneurial journey.
Kisha: "I had a conversation with a tech entrepreneur early on in Baltimore and he advised me not to build out my system based on my initial vision. And it was great advice. Being able to give yourself the opportunity to really experience the nuts and bolts of what you want your technology to do before dropping $100,000 to drop your tech software."
Kendal: "There's riches in niches. Finding that unbeaten path and making a space for yourself in places where there isn't an overrepresentation."
Jamye: "Serving the community and doing what's right, the community will serve you as well.
Nikia: "Know your craft. Know what you're doing, and be very well-versed in that."
Vince: "You can only be as good as your network and how you grow your network."
Helpful Resources for Entrepreneurs
Throughout our discussion, we referenced several resources for new entrepreneurs. Check out the round-up below.
Organizations:
Recommended Reading:
In addition to the webinar, Mindgrub's subject matter experts led free 30-minute strategy sessions to help budding entrepreneurs gain the traction needed to reach the next steps in their business. Read the coverage of the full three-day event on mindgrub.com.
---
Need help growing your technology startup? Mindgrub Ventures works with SaaS companies in disruptive markets. Visit ventures.mindgrub.com to learn more.