Virtual Reality is About To "Cross the Chasm" Into Our Everyday Lives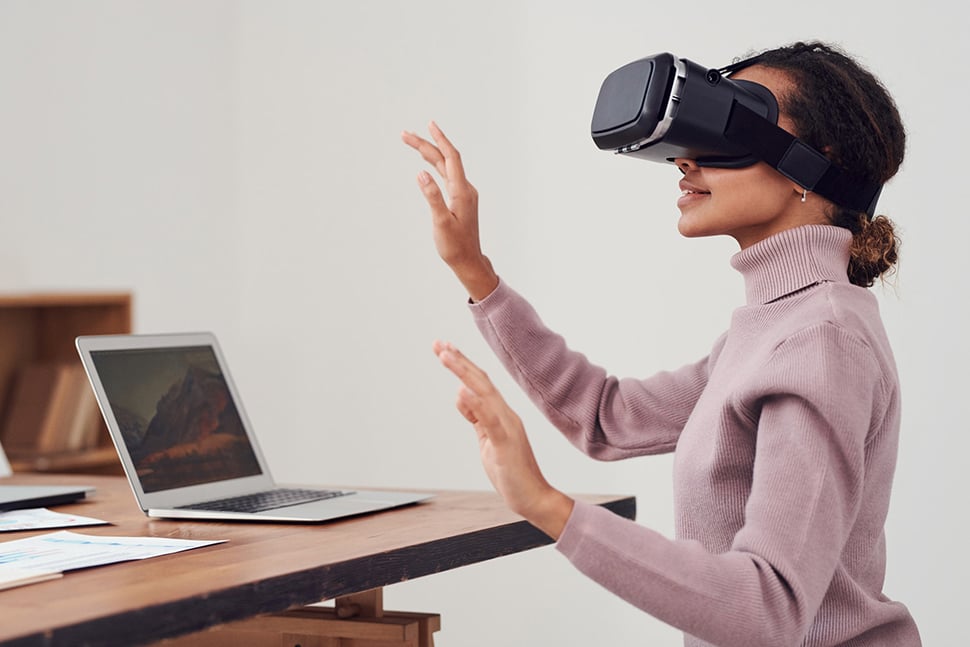 There's a book by Geoffrey A. Moore that I reference often when talking to clients about introducing emerging technologies into their digital ecosystems. "Crossing the Chasm" has been described as "the bible for bringing cutting-edge products to larger markets," and Moore's general argument from 2014 continues to ring true to me today.
His thesis about technologies like virtual reality (VR) is that there's not just a gap, but a chasm between the early adopters and early majority. Moore correctly concludes that it's incredibly challenging to achieve widespread adoption of new-to-world tech.
But while it has been widely accepted that VR will make it across that chasm eventually, it has a lot of things working against it; namely the need for people to purchase yet another device and incorporate it into their daily lives. As early as last year, about half of consumers reported that they did not plan on purchasing a VR headset, the most common reason being they didn't see the value in buying one.
When Moore wrote the book, however, he couldn't have anticipated the global pandemic we find ourselves in today, and the accelerating impact COVID19 would have on the adoption life cycle of VR.
VR has been introduced successfully in niches like gaming, but individual VR systems remain expensive and haven't achieved anything near the level of ubiquity of other in-home devices. For instance, as of 2019, an estimated 35% of households were equipped with at least one smart speaker, and that rate is estimated to rise to 75% by 2025. Last year, only 11% used any type of VR hardware or software at home.
What's changed?
Social distancing and travel restrictions means consumers are more willing to invest in products for the home and are more starved for immersive experiences than ever before. COVID-19 has changed the equation for virtual reality experiences, and our new reality could serve as the pressure cooker that accelerates VR's journey across the chasm.
Further, we continue to see technology impacting the daily lives of American's and brands more accountable to greater accessibility. While the pandemic has pressed fast forward on technology innovation and application, it has limited accessibility for many. VR is well positioned to address this challenge.
There are countless ways VR can be applied within our new normal, but here are four that can stand out:
Safe travels
Travel may have come to a standstill, but that doesn't mean that consumers' wanderlust has disappeared. In fact, according to a 2020 study by American Express, 78% of U.S. consumers cite travel as one of the activities they miss most during the pandemic.
Experiencing travel destinations, world-renowned restaurants, and foreign cultures virtually gives local attractions and the tourism industry at large a way to connect with consumers in a powerful way while offering would-be travelers an immersive escape.
Immersive media and entertainment
Demand for content continues to skyrocket as consumers remain confined to their homes while most studios have halted filming out of concern for the safety of actors and production teams.
Content creators can safely design virtual reality experiences in nature, in museums, or in theme parks, as well as grant the viewer access to alternative entertainment experiences that can't take place in person, like a comedy show, theater production, or concert. All of these VR experiences give people access to in-home entertainment.
Remote workforce development
Millions of unemployed Americans are looking for ways to upskill or re-skill in the face of our new economic reality. At the same time, employers are looking for innovative ways to train remote workforces effectively.
Virtual reality training has the benefit of safely immersing the participant in an experience that's identical (or at least extremely similar) to what they'll encounter on the job while decreasing training costs for employers. Outcomes improve, too. One study published in Current Psychology concluded that virtual reality training is up to twice as effective at driving recall than a regular 2D video.
Accessibility and access
Yes, VR will meet a temporary need for immersive experiences while in-person activities are off-limits to all of us, but it will also make those experiences more accessible in the long-term.
Think of how powerful it would be for an elderly nursing home resident to spend a holiday virtually with their family, or how invigorating it would feel for someone with a physical disability to hike Machu Picchu, or how meaningful it would be for a person with anxiety to be able to experience a popular tourist destination without the added stress of large crowds.
Even after the pandemic is over, so many people will face ongoing barriers to travel, team sports, education, healthcare, and more. Making it easier for everyone to experience life's wonders in virtual reality will only make the world a more equitable and fulfilling place to live.
What this means for businesses and brands
According to a Deloitte study, the average American household has 11 connected devices, including 7 with 2D, internet-connected screens. The opportunity has never been greater for the introduction of a lower-cost VR system that truly envelops consumers in 3D experiences that they'd normally have to leave the house for.
Immersive experiences delivered from home are more important to consumers than ever before. The world has looked at VR as the next big opportunity for over a decade. Perhaps now will be the time that promise is fulfilled.