How to Use Google Business Profiles for Higher Education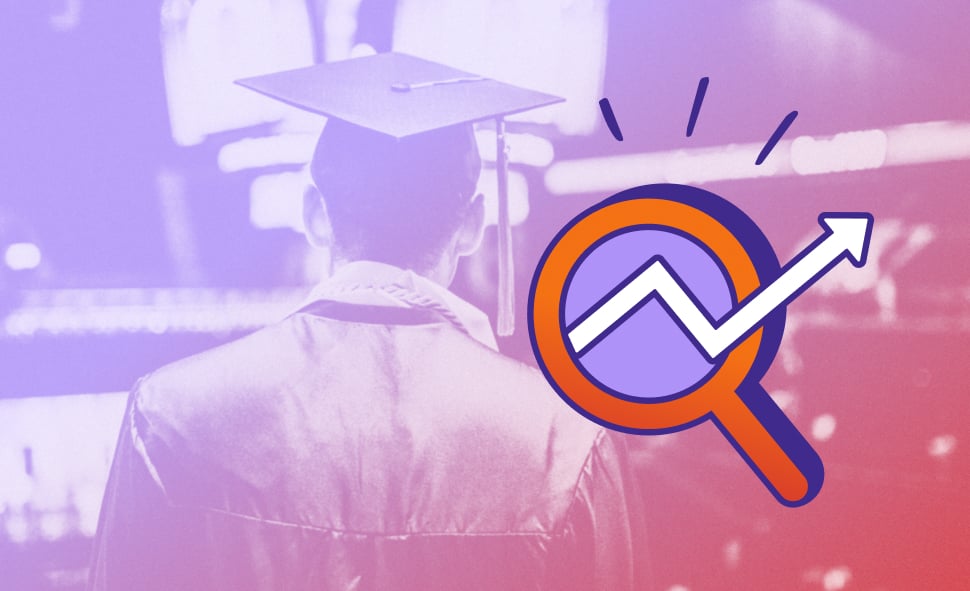 Are you looking to improve your school's online presence?
Do you want students to find your institution quickly and easily?
Then it's time to tap into your free Google Business Profile and optimize your University's presence online.
With this powerful tool, you can showcase your college or institution in Google search results front and center. (Or, rather, at the top and slightly to the right. See below.)

Making sure the information in this little square is accurate helps maintain your online credibility, makes you easier to find, and boosts your visibility!
So, What Are the Benefits of Creating your Google Business Profile?
This small (but mighty!) piece of real estate on Google impacts both your upfront and behind-the-scenes Search Engine Optimization (SEO) efforts. In fact, for most of Mindgrub's higher education clients, Google Business Profile traffic accounts for about 3-5% percent of new organic users!
In addition to driving new visitors, it plays a large factor in local SEO. It determines whether your school (or its competitor!) is displayed first when searching for your town and university*. In fact, research finds that most university students come from within 50 miles of their chosen institution. So the focus of a Google Business Profile listing should be to capitalize on interest from local prospective students.
What You'll Need to Create your University's Google Business Profile
A Gmail account. This will be the primary login to manage your organization's profile. You will have the option later to designate managers and add users to the main account associated with Gmail (this can be your school email if you are using Google for education).
A spreadsheet (If you're tracking work for multiple schools, departments, or campus resources.)
That's it!
Since your institution likely already has a web presence—a website, social media, Wikipedia, and other online forums—it's important to note that Google Business Profile will automatically pull in some of your existing information to create a central hub, including the following:
Any YouTube, Facebook, Twitter, Instagram, and Linkedin profiles
A description from your Wikipedia profile or some other source of information describing your organization
The latest tuition, graduation, and acceptance information from popular online sources
This is why it's important to remain consistent with your information across all platforms; Google aggregates it to create a clear picture for users.
What to Consider Before Setting up your Google Business Profile
As noted earlier, it's important to keep your name, address, and phone number (NAP)** consistent in references across the internet to help Google put together the correct information. You don't want an old number or the wrong address to throw off your prospective students and alumni!
Here's what you'll need to consider as you go through the process:
1. Your Google Business name
This might seem straightforward, but there's plenty to think about when it comes to your name:
How should your organization be represented on Google?
Have you had a name change recently?
Will you be including the city or state following the name?
2. Your main phone number
Use the primary phone number for your organization. Oftentimes, this is the admissions office, department, or main switchboard.
3. Your building location
Here, you'll need the official address to be used for your school, facility, or department building.
4. Your business category
You have over 2,300 business categories to choose from and you can select up to three.
NOTE: It's important to think of applicable synonyms for your institution ("university", "college", "higher education", "online learning", etc.) and include those in your categories.
How to Set up your Google Business Profile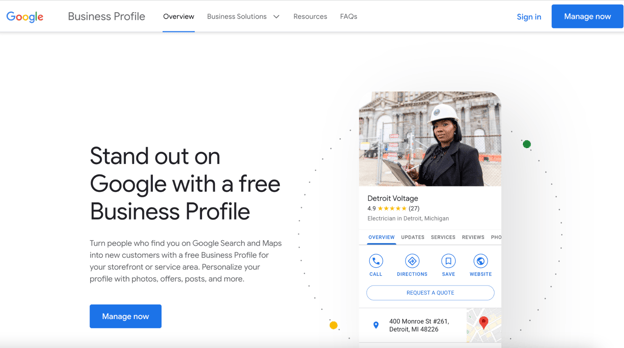 source: Google Business Profile
Step 1: Signing up for your Google Business Profile
Visit the Google Business Profile homepage and click "Manage now" in the upper right corner. If you are visiting this page later to maintain your accounts, you will click "Sign in" and be taken to your dashboard.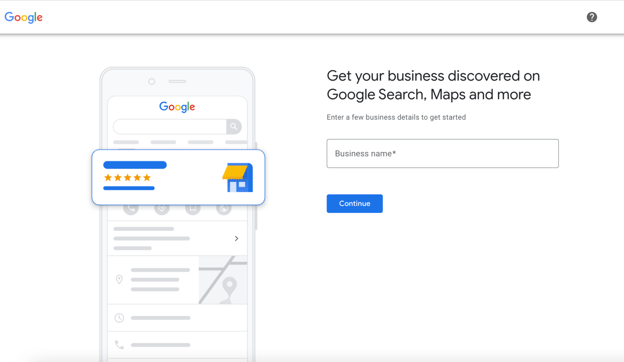 Step 2: Create (or find!) your business on Google Business Profile
When using Chrome, Google will automatically sign you in using your Google email address. If you have multiple email addresses, simply click on your icon in the upper right corner to switch to the appropriate account.
Enter your organization's name in the search box. If the location already exists, select it from the dropdown menu. (If you are NOT signed into Chrome, you will be offered the option to sign in, request access, or recover your password from the account through email.)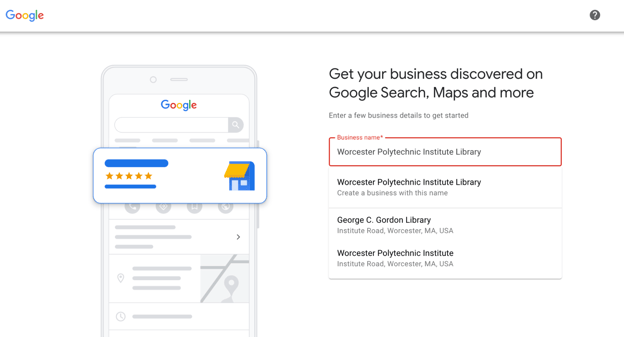 If you are creating an entirely new profile, such as the "Worcester Polytechnic Institute Library", you would enter the name and then select the option from the menu, which reads "Worcester Polytechnic Institute Library - Create a business with this name."
Step 3: Choose the business type that's right for you
Time to choose your business type! If you're a brick-and-mortar university select "Local store", if you're an online learning institution select "Service business". (If you have both in-person and online learning, check "Local store" since you have a physical address.)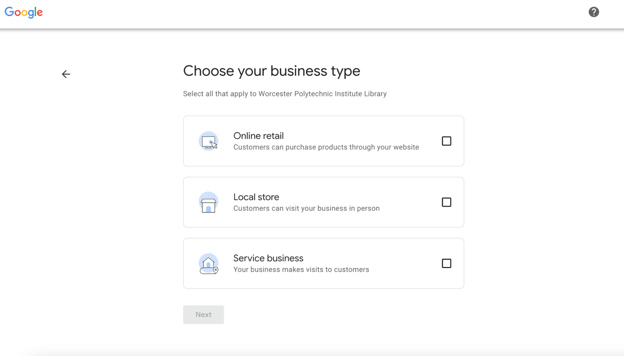 Now that you've selected your type of business, we can move on to your address: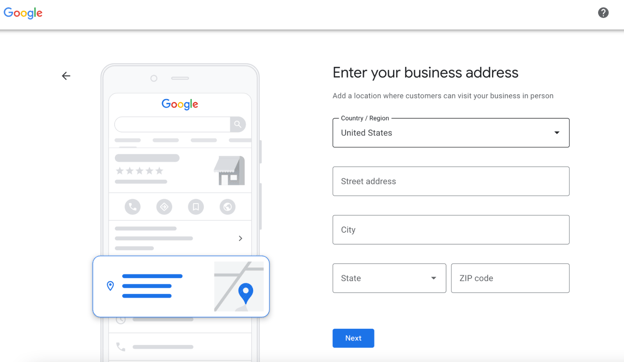 Google will search to see if the address (and name) already exists in Google Maps. If you see an option that matches your organization, select it; if not, select "This doesn't match" and click "Next."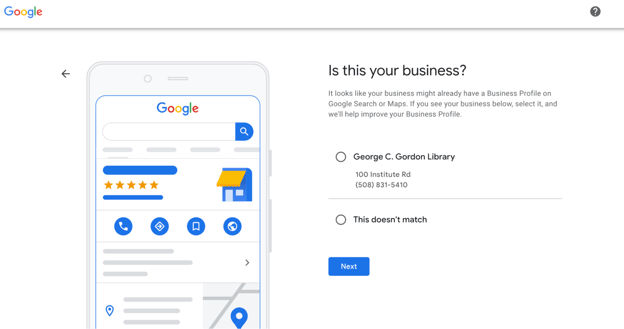 If you select a listing that has already been claimed—such as the George C. Gordon Library shown above—a screen will notify you that the listing has already been claimed (see below). This is the route you will take if you are attempting to access a listing that was managed by someone else. You will have to click "Request access" in order to sign in to the account and make changes.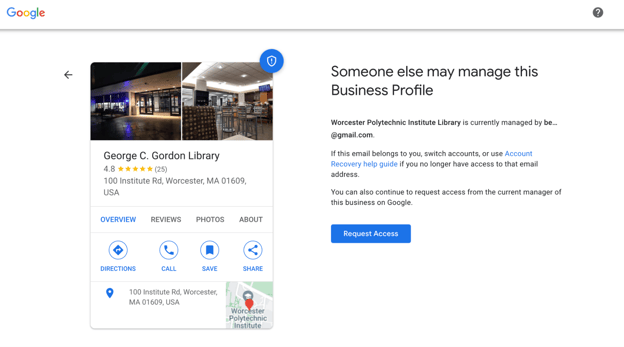 If you selected "This doesn't match" the next screen will ask you to enter in your preferred category. You can only enter one category on this screen. You also won't have a complete list of the categories. (Google will offer options as you type, as seen below.)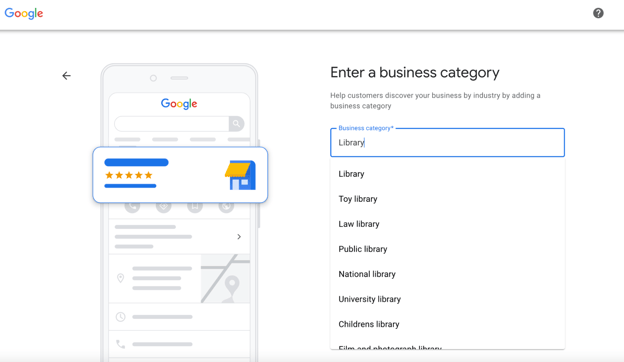 Step 4: Enter specific phone numbers and web addresses
The more specific to your institution or department, the better!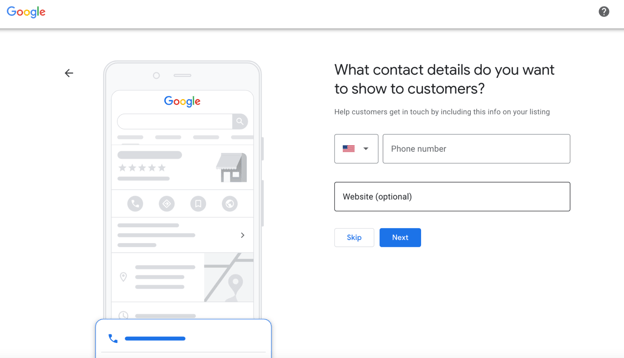 Phone number: This should match the number used for your organization in other places on the internet. Remember, consistency is key!
Website: List the page or website that is most specific to your listing. If you are making a listing for a school, use the main school's website. If it's for a department, use the department's website or page (if available.) If no separate website is available, try the specific page where information can be found. The idea here is to be as accurate and specific as possible!
Step 5: Verify your institution's existence
The final step! Verifying your business. This will be done via postcard (yes, snail mail) to the physical address you've provided.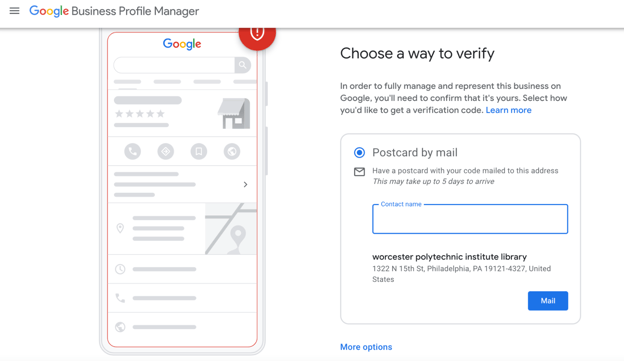 NOTE: As you can see above with the "More options" link beneath the square, you have the option to verify at a later time, though any edits you make to your information will not be visible to the public until you have verified via postcard.
Once you click "Mail," you'll have to wait around 5 business days to receive a verification code through the mail. Until that comes, feel free to keep setting up your information.
Step 6: Adding details to your Google Business Profile
Google will now walk you through the various necessary details. This includes:
Your hours of operation: Be sure that there is someone able to receive phone calls during the displayed hours!
Whether you'd like users to be able to reach you via this profile: This is a free feature, and can be useful depending on your department or university's needs.
A short description of your institution: This will appear in the sidebar, and can either be pulled from a user-supplied description or Wikipedia. Google has some best practices for writing your Google Business Profile description.
The addition of photos: Any university events, classrooms, lectures, or campus photography works well here. Be sure to include both interior and exterior photos, as well as school logos, students, and faculty. Google has set parameters for photo formats and sizing, consult their details to make sure your photos appear correctly.
The option to join Google Ads for easy advertising: Another great feature that can be relatively low cost (although if you're looking to extend your reach we recommend reaching out to Mindgrub's Agency team for a focused and effective marketing campaign).
Once you've filled in all of your information and verified your account, your business will now be proudly (and accurately!) displayed in Google searches. That's it!
NOTE: If you do not receive verification, contact Google Business Profile support.
How to Optimize your University's Google Business Profile
Now that you've set everything up, it's time to make it shine!
Google relies on certain trusted sources of information to deliver accurate search results. For universities, one of these sources is the IPEDS system—a survey sent on a yearly basis that is handled by the registrar's office. Information about your graduation and acceptance rates, as well as cost, are compiled from the IPEDS survey and the College Scorecard.
Other sources of information include Wikipedia. It's not guaranteed that the information you give will be used over what could be seen as a more authoritative source—but given the few sources Google prioritizes for higher education institutions, your Google Business Profile is super important! This is why optimization is essential.
Know exactly what you are listing.
Remember: specificity is key! Google allows individual departments to have their own Google Business Profile listing. You can have the same address as other departments in your building by using a distinct suite number, but only if your department is able to receive visitors and has clear signage. In all, the preferred method is to have a unique department name, a unique phone number, and a unique address or suite number.
UTM (Urchin Tracking Module)
A great way to track traffic from your profile is to use UTM parameters, tracking codes that get inserted after a web link to assist with performance analysis and traffic attribution in Google Analytics. This is an excellent way to measure how effective your work has been!
Attributes
Any attributes that set your educational institution apart, such as wheelchair-accessible facilities, should be added here. This gives the organization a unique opportunity to stand out from other competing organizations. These tags can change frequently, and can only be added in certain countries or regions, so be sure to check Google's attributes best practices.
How to Use Google Posts for your University
Google posts are a way to share regular updates about your organization.
After reviewing the top 100 colleges, however, only a minority of respondents seemed to be taking advantage of Google posts. Utilizing this feature could be a huge advantage over your competitors.
Here are some best practices to consider when creating Google posts:
Track post links with UTM codes.
Track each element on the Google Business Profile post separately.
Use images that are 750 x 750 pixels.
Use the text in the knowledge panel wisely because it's the first 100 characters that show up.
Note that if you have multiple posts, they will be displayed in a carousel format with your newest first.
Remember that posts can be shared directly because Google gives specific URLs to individual posts.
Post high-quality, informative videos.
Managing Changes to your Google Business Profile
There have been many updates to the Google Business Profile platform over the years. The best way to stay current on recent changes to the platform is through the official help forums for Google Business Profile or the official Twitter channel.
You can also search for higher education-related topics with these search queries: Basics for Business Owners (this search was done with the site operator). Search Engine Journal has additional information on search operators you can use with Google.
Where to go for Help with your Google Business Profile
The question-and-answer Google Business Profile Forum is particularly helpful and a great resource. The two most helpful sub-forums are Basics for Business Owners and Enhance Your Presence.
Before posting to these forums, be sure to:
Search for other topics that are similar to yours. Someone with the same question might have had their problem resolved!
If you need to ask a new question, post an entirely new thread. A new thread for Basics for Business Owners can be started

here

.
When posting, include the full business name (the official name of the organization), current address, phone number, Google Maps URL, and your website URL. Your Google Maps URL can be retrieved by searching for your school and then copying the URL. For example, here's the Google Maps URL for Worcester Polytechnic Institute.
After posting a question, you might be directed to reach out to Google directly. Here are the two most direct ways to contact Google:
Now that you have a complete understanding of how Google Business Profile works, it's time to take control of your school/educational institution's web presence and start to see a significant impact on the growth of your organization.
Ready, set, go!
If you have any questions along the way, please don't hesitate to reach out to us for help. We'd be happy to discuss this and any other digital marketing concerns you may have.
*More information on this can be found using the Moz Local SEO survey
**Listing Accuracy by Moz has more information on the importance of a consistent NAP in online citations.